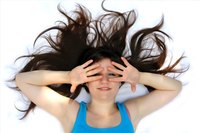 Most people want their hair to grow faster. You may want your hair to grow faster because your hair is damaged. The quicker hair grows, the healthier it will be. You may also want to grow hair because you have thinning hair or you are waiting to grow your hair out after a short haircut. No matter what the reason for getting longer hair is, you may be able to achieve it by trying a few simple tips. These tips are not approved by the FDA and may not work for all individuals.
Take Fish Oil Capsules
Fish oil capsules contains omega-3 fatty acids, which are good for your skin and hair. Fish oil capsules are available over the counter at most drugstores and grocery stores. The fish oil capsules work to coat and lubricate the hair, making it shiny and healthy. You can also apply fish oil capsules directly to your hair as a moisture treatment, if desired. Break open four fish oil capsules and rub the oil into wet hair. Leave on for 20 minutes, then rinse thoroughly. For best results, take two 1000 mg fish oil capsules every day.
Change Your Diet
Eat foods high in vitamins to promote hair growth. Some foods that are rich in vitamins that stimulate hair growth, like vitamin A, C and E, include soy, yogurt, green leafy vegetables like kale and collard greens, whole grain foods, seeds, nuts, carrots, oranges, grapefruits, eggs, broccoli, spinach, beans and fish. You should be drinking at least eight, 8 oz. glasses of water every day and taking a multivitamin in addition to the foods listed above.
Massage Your Scalp
Although it is not proven by the FDA, according to HairBoutique.com, hair follicles are stimulated by blood flow. When the scalp is massaged, blood begins to flow throughout the scalp. When you wake up in the morning and before you go to bed at night, give yourself a quick scalp massage by applying pressure with your fingertips to your scalp and rubbing carefully. Continue to massage for about one minute. Ask your partner to give you a weekly half-hour scalp massage. Otherwise, you can go to a masseuse or massage therapist to get your scalp massaged.