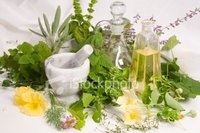 Mouth ulcers are painful sores that cause much aggravation. There are many causes for getting these sores such as stress, spicy food, vitamin B deficiency to name a few. There are many simple home remedies that will treat these pesky sores.
Holy Basal Leaves
Chew five or six holy basal leaves with water. Do this anywhere from four to six times a day. This will give you relief from the pain of mouth ulcers.
Hydrogen Peroxide
Take 2 oz. of hydrogen peroxide and 2 oz. of water, and mix it with 1 tsp. of baking soda. Gargle the solution and rinse your mouth.
You can also mix 1 tbsp. of hydrogen peroxide with 1 tbsp. of water and dip a cotton swab in the mixture. Apply the cotton swab directly to the mouth ulcer.
Toothpaste and Mouthwash
Toothpaste is a very simple remedy. Just take a cotton swab and dip it in toothpaste. Apply the toothpaste directly on the mouth ulcer. You can also rinse your mouth daily with a mouthwash such as Listerine.
Diet
Try eating a banana every morning to prevent mouth ulcers.
Drink a glass of tomato or mulberry juice.
You can also avoid spicy foods and especially hot drinks such as coffee.
Peppermint Oil
Dip a cotton swab into the peppermint oil and rub it directly on the ulcer. This will give you instant relief from the ulcer.