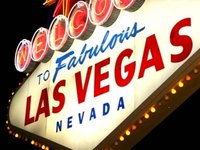 Las Vegas is the ultimate adult vacation spot, accommodating thousands of visitors from around the world each year. Along with all the restaurants, 24-hour-a-day gaming, pool activities and endless variety shows, Vegas is home to some adventurous and exciting activities for all types of thrill-seekers.
Sky Diving
Head to Sky Dive Las Vegas for the easiest, fastest way to be on your way to your first skydiving experience. After a training class, you'll tandem jump from 2 miles above Boulder City, with a spectacular view of the Las Vegas Strip, Colorado River, Valley of Fire, Hoover Dam, Lake Mead and more. With free transportation, state-of-the-art equipment and free ground training, Sky Dive Las Vegas makes your first jump easy and stress-free.

Dinner in the Sky
You may think you have experienced every type of restaurant and food, but have you tried Dinner in the Sky? You can have your meal and gaze at the skyline while being suspended 160 to 180 feet in the air at a 22-person table. Each flight lasts about and hour, and includes a wonderful dinner of a champagne toast, cocktail reception, appetizers, filet mignon and dessert. Dinner in the Sky is located at 2800 West Sahara Blvd., and offers complimentary shuttle service from Vegas hotels.

Thrills at The Stratosphere
For those seeking ultimate on-the-ground adventure, head to the Stratosphere Hotel atthe end of the Las Vegas Strip. At the top of the 100-story hotel is a mini-amusement park. Insanity, The Ride, is a mechanical arm that extends 64 feet over the edge and exerts a 3 g-force. The X-Scream is a giant teeter-totter that shoots you over the edge off the 866 foot tower. The Big Shot shoots you straight up 160 feet at 4 g-force until you are 1,081 feet above the strip.