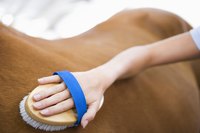 Horses are constantly growing and replacing their coats. Most horses and ponies grow two coats a year: a heavier one for winter and a lighter one for summer. These coats have a natural sheen and protection given by oils from the horse's skin. These oils are very important for overall coat health, so feeding your horse the correct diet to maintain the production of these oils is one of the primary steps in ensuring a shiny, healthy coat.
Supplements
Since nutrition is so important for the overall health of your horse, including the health of the coat, you should always makes sure you are feeding your horse well. Give your horse quality grains and balance out any vitamins or mineral supplements so there is not an overabundance of any particular element, which can be unhealthy. There are many types of supplements available for sale, and many are targeted at giving your horse a healthy coat. When choosing a supplement, be sure to keep an eye on both the phosphorous and the calcium amounts. These two supplements should be in a ratio of approximately 1.5 parts calcium to 1 part phosphorous for the best results. If your horse does not develop a healthy coat even with these supplements, there may be a deeper problems, such as worms or another nutrition-related condition.
For a very shiny coat, many people feed their horses different types of oils, since their fatty particles generally supply the horse with an abundance of its own skin oil, giving the coat an extra sheen. Try adding 1 cup of vegetable oil to every daily feed. You should always be careful to balance out the oil with the grain available so your horse does not absorb too much fat. Soybean meal is another alternative, but again be sure not to use too much and to balance out grain amounts accordingly.
Additional Methods
Make sure that your horse is properly groomed on a regular basis, at least 10 minutes every day. This stimulates the horse's skin and removes any dead hair or skin flakes that may be impeding the growth of a healthy coat. When washing your horse, be careful to use the correct soaps or shampoos, since washing with too strong a solution or for too long can damage the coat more than help it. There are some types of acidic soaps designed to add softness and luster to the coat, but you should use these sparingly.