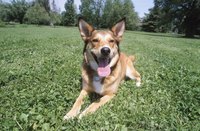 Invisible Fence allows you to train your dog to stay in the yard without the use of traditional fencing, since underground wires form the perimeter. When your dog is about to cross the boundary line, the wires relay radio signals to a receiver in his collar, which produces a warning tone audible only to your dog. To ensure your dog's safety at all times, it's a good idea to know how to troubleshoot problems.
Invisible Fence Brand Components
It's important to have a solid understanding of how each mechanism of the system works so you can detect any problems that require troubleshooting. There are three basic parts: the wires, the transmitter and the receiver. The underground wires are physically connected to the transmitter, which is plugged into an outlet outside your home or inside your garage. The receiver is the plastic part of your dog's nylon collar. Depending on the model, the receiver runs off of a 3-, 7- or 9-volt battery.
Transmitter Troubleshooting
Depending on the model, the "on" indicator light on the unit should be lit or blinking. If it isn't, make sure it's plugged in correctly. If the light still doesn't come on, then plug another device into the same outlet, like a can opener or hair dryer. If the second device doesn't work, then the problem is with the outlet, not the transmitter. In that case, you'll need to call an electrician. However, if the second device works, plug the transmitter back in to see if it will reset itself. If it still fails, call the manufacturer to arrange for a technician to come out to either service the unit or replace it.
Receiver Problems
If the receiver isn't getting any radio signals from the transmitter, it could mean that the battery needs to be replaced; the battery's life span is about three months. If you know that the battery is new, then make sure the collar is fitted right. You should be able to slip your index finger between the collar and your dog's neck. However, if you have more than one pet wearing receivers and none of them are working, the transmitter may be set to the wrong frequency. You can adjust the frequency by flipping the black switch on the transmitter to another setting.
Damaged Wires
If the transmitter and receiver are working but your dog is able to wander outside the perimeter of the invisible fence, then the underground wires may be damaged. This can happen if you dig in the area and accidentally cut through any portion of the wires. The wires can also be damaged from a lightning strike. Repairing or replacing the underground wiring is beyond the scope of normal Invisible Fence brand troubleshooting and requires a service call.