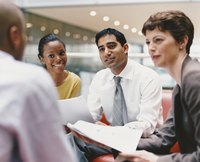 Managers are leaders. Leaders are charged with making the groups they lead more effective. Communication styles of managers need to be tailored toward the needs of a particular group. Communication strategies may need to change, for instance, when hiring an entirely new and inexperienced group of people to work on a particular team or focus group. Factors like level of experience and individual dispositions of group members influence management style.
Leadership Style
Choose a leadership style based on the characteristics of the particular group and their management needs. According to the University of Kent, there are five basic types of leadership styles: laissez-faire, authoritarian, procedural, participative and transformation.
Leadership styles correspond with level of control. Authoritarian leaders have the highest amount of control, laissez-faire leaders the least amount of control. Procedural and participative managers share similar amounts of control, but through different avenues.
Procedural leaders are similar to authoritarian. Both types of leaders expert a high amount of control. Procedural leaders do so by asserting the rules of operation and organization. Authoritarian leaders do so via the power of their authority. These two styles work the best with inexperienced groups who truly need authority and on high stakes projects.
Laissez-faire leaders have a low level of control over the group. The laissez-faire leader allows group members to come to their own decisions, but is still responsible for the outcome of the project. Thus, this leadership style works the best with highly experienced groups. Laissez-faire comes from the French, translating to "let people do as they choose," according to Merriam-Webster Online Dictionary.
Participative leaders have a little more control than laissez-faire leaders. They allow the group to come to a unified decision, but can still overturn that decision if needed. This kind of leadership style makes use of team members' knowledge and expertise and is especially suitable for group projects.
Transformational leadership provides moderate control and is the most used contemporary leadership approach. Transformational leaders focus on the improving the team. This leadership style involves focusing on the "big picture," motivating group members and leaving the details to employees. (See Reference 1)
Communication Style
Choose a communication style that works with the appropriate leadership style. The communication style if the manager is what primarily affects the way the group's team members will view that manager.
Authoritarian and procedural leaders communicate, primarily, by "telling, directing and controlling" the group. Authoritarian leaders focus on accomplishing tasks, procedural leaders on following standard procedure.
Transformational and participative leaders communicate by "selling, reasoning and persuading," while "delegating" tasks to team members. Transformational leaders focus on motivating. Participative leaders facilitate group decisions.
Laissez-faire leaders "advise, counsel, participate and observe." Lassez-faire leaders focus on allowing the group to reach its own conclusions.