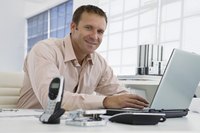 Starting an insurance company is a large undertaking significantly different from starting an insurance agency. Two of the biggest differences involve the funding and the licensing required for an insurance company. Insurance can be a complicated business, so it is a good idea to start your quest by educating yourself on how it works. From there, the process requires paperwork and money.
Financing
Before you set up your insurance company, you need to establish how to finance it. The start-up costs are very high. As an insurance provider, you need to carry cash on hand to pay claims, and it you are starting out, you need to raise that cash. According to StartUpBizHub.com, the start-up costs for an insurance company can run as high as $1 million, so securing the proper financing is critical. State insurance company licenses cost as much as $100,000 each, and you need to establish a business location.
Talk with lending institutions and private investors to see who may be interested in financing your company. To attract investors, develop a business plan that outlines exactly what lines you plan to offer, your marketing and advertising strategy and your experience in the insurance industry.
Licensing
You must license your company in every state in which you do business. To find out the exact licensing requirements, you need to contact each state's insurance department. The Resources section of this article includes information on how to contact individual insurance departments. You also must be licensed personally as an insurance agent in each state in order to represent your company's line of insurance in that state. To become a licensed agent, you need to take insurance-related written exams.
Shell Company
Maybe you would rather not go through the process of obtaining licenses. If you would like to purchase an insurance company that already has the licensing foundations in place and build it up, consider purchasing a shell company. A clean shell is an insurance company that has licenses in all the states where you want to work but does not have any negative marks against it for writing bad policies or incurring state fines for its business practices. A bad shell has all of its licensing but bears some bad marks. A standard shell is a company that has been active and has written policies to existing clients. The advantage of purchasing a shell is that the company has its licenses in place. You still need to get yourself licensed as an agent, but a shell company already has its insurance lines in place and ready to sell. A clean shell allows you to choose the lines of insurance you wish to sell, while a standard shell's customers may dictate that you sell insurance lines you might not be interested in selling. A bad shell requires you to clear up licensing issues before you can get started. You may be able to purchase a bad shell at a lower price, but it may not be worth the cost of paying fines and clearing licenses. The chance to dictate the lines you want to sell may make a clean shell a more desirable option.