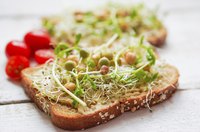 Gout is a type of arthritis that causes your joints to be inflamed due to a buildup of uric acid. Changing your diet can help you control this buildup and your gout symptoms. Although it isn't necessary to become vegan, eating a vegan diet may be beneficial. Speak to a registered dietitian or your doctor to figure out the best diet for you.
Beneficial Effects
Substances in some foods called purines can contribute to uric acid buildup, so doctors used to recommend limiting all foods that contain purines. Newer research, however, shows that eating more vegetables and less fat, regardless of the purine content, helps lower overall levels of uric acid, according to the Palo Alto Medical Foundation. The purines from animal foods seem to be the only ones that adversely affect uric acid levels and gout. A review article published in the Indian Journal of Rheumatology in September 2006 has a similar conclusion, noting that people who have gout should limit meat and seafood but that vegetarian food reduces the risk for gout.
Other Dietary Considerations
Some things allowed on a vegan diet should still be limited to decrease gout symptoms. These include alcohol -- including both spirits and beer -- fruit juice and sugary drinks. You should also drink at least 8 to 16 cups of fluid each day to help clear the uric acid from your body. Losing weight, exercising daily, drinking coffee and taking vitamin C supplements may all help prevent gout attacks, according to MedlinePlus.