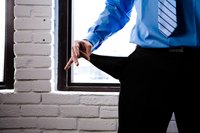 People across the country are finding themselves in a situation they never thought possible--facing bankruptcy and not knowing where to turn for help. The United States government developed programs to assist people in this situation.
HOPE for Homeowners
The Federal Housing Administration (FHA) developed the HOPE for Homeowners program for homeowners facing foreclosure due to bankruptcy, or as a way to help avoid bankruptcy. Qualified applicants will receive a 30-year fixed mortgage, which in most cases will lower the mortgage payment. The program is on a volunteer basis and to qualify all parties involved must agree to participate.
Beginning Oct. 1, 2008 and continuing through Sept. 30, 2011, the government is helping people facing bankruptcy through mortgage assistance. Homeowners who received loans prior to Jan. 1, 2008, live in their house as their primary residence and have made at least six payments have the chance to refinance homes through government financing. To qualify, homeowners must also have an inability to pay the existing home mortgage without assistance, a mortgage payment that is more than 31 percent of the household gross monthly income as of March 2008, no fraud convinctions in the past 10 years and no defaults on debts.
If approved, new mortgages will be written for the maximum of 90 percent of the current appraised value of the property, replacing the existing mortgages.
Upon approval, borrowers are responsible for paying three percent of the mortgage insurance payment before finalizing the loan and are obligated to pay 1.5 percent insurance payments annually on the remaining debt, spread throughout the remainder of the year in monthly mortgage payments.
Lenders
Participation in the HOPE for Homeowners program is voluntary and not all financial institutions choose to be a HUD-approved lender. If you are attempting to negotiate new mortgage terms and your lender will not work with you, there are a few options to resolve this issue.
If the mortgage is currently held through an FHA-insured loan, the lender must conform to all FHA servicing guides and regulations. Lenders not following these should be reported to FHA's National Servicing Center at (888) 297-8685. You will need to provide the full names of all persons listed on the mortgage, the full address of the home and a 13-digit FHA case number.
Homeowners with mortgages secured through conventional terms should speak with a HUD-approved housing counselor for assistance. A counselor may be able to work with the lender and assist in transitioning the mortgage if necessary.
The U.S. government is helping people facing bankruptcy through housing assistance programs to help avoid foreclosure. Working with HUD and your lender can save you from filing bankruptcy or losing your home due to bankruptcy.