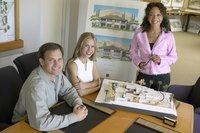 The real estate brokerage firm is a cornerstone business in most American neighborhoods. Its cyclical business relates directly to the ups and downs of the housing market, which in turn mirrors the overall economy. Real estate brokerage firms earn their commissions only when their real estate transactions are ratified. Forming such an enterprise is therefore an amalgam of business savvy coupled with trade knowledge.
Planning The Business
Unfortunately the U.S. Small Business Administration (SBA) states that approximately half of all businesses started, fail within the first five years of operation. Reasons for failure include lack of experience, lack of money, intense competition, poor location as well as a myriad of other unforeseen obstacles.
Forming a real estate brokerage firm is thus best begun with the development of a formal, written business plan. It will focus the entrepreneur's vision of the business, and will be necessary for securing the operational funding from investors and lenders.
An early decision will be whether to start an independent real estate brokerage firm or whether to buy into the proven business model of a franchise. In a recent Member Profile, the National Association of Realtors (NAR) published that 51 percent of its member Realtors® were affiliated with independent, non-franchised real estate brokerage firms.
According to Franchise Direct, an Internet-based franchising clearinghouse, smaller real estate brokerage firms can align themselves with larger real estate companies through franchising. The advantages of doing so will include brand name recognition, operational support, business training, and a host of other proven business and trade techniques. Possible disadvantages to franchising include the loss of business independence and the recurring, sizeable, non-negotiable franchise fees.
Firms that opt for non-franchise independence must organize under a legal business structure. Qualified legal counsel will advise whether to structure the real estate brokerage firm as a corporation, a limited liability company (LLC) or any other legal structure that is relevant to the business.
Independent real estate brokerage firm entrepreneurs may also take advantage of the vast knowledge base offered by SCORE, a partner association of the SBA. Through its 364 chapters throughout the US, it counsels business owners on how to start and grow a successful business.
Legal Requirements
Real estate brokerage firms must be licensed by state real estate commissions. So must brokers and real estate sales agents before any business can be transacted.
Additionally, brokerage firms must have all appropriate business licenses and state and local sales tax licenses. Depending on their municipalities, space permits and other local ordinance credentials may need to be secured as well.
Finally, the large sums of money that are typical of real estate transactions require the establishment of escrow bank accounts where clients' money can be safeguarded until settlement.
Organizing The Business
Ultimately, an office layout must be planned. It must accommodate an administrative staff, sales agents, as well as client conference rooms. Space will also be needed for computers, copiers and general office equipment storage.
Signs must be ordered along with information riders that identify houses as being For Sale, For Rent or Under Contract.
Commissioned real estate agents must be enticed to work for the brokerage firm. Salaried staff must be hired and a mountain of legal real estate documents must be purchased.
Marketing plans must then be initiated with local media outlets. Neighborhood outreach programs need to be started to introduce the real estate brokerage firm to the public, and the doors can then finally be opened for business.