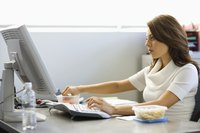 The best way to set up an advertising agency in QuickBooks is to write out an implementation strategy and formulate a plan. A written plan will reduce mistakes and keep files in QuickBooks free of erroneous information. A well-thought-out strategy for implementing QuickBooks in an advertising agency is the best plan for an optimized accounting operation.
QuickBooks Accounting Wizard
A starting point in setting up an advertising agency is to use the automated "wizard" setup feature in QuickBooks. The setup features various types of businesses and accounts to choose from. The QuickBooks automated feature is designed to ask questions concerning business structure and accounts. If you're a novice, you should use this setup to establish basic accounts for the advertising agency or seek assistance from an accounting professional.
Adding Extra Accounts
Many advertising agencies have specialized accounts such as a manufacturing materials account, which may not be included in the initial setup. Extra revenue, expense or special accounts can be added through the QuickBooks automated wizard. The wizard will prompt you to add extra accounts. A simple strategy for adding accounts is to know what specialized accounts are needed; if you're unsure, consult an accountant before creating extra or specialized accounts. Tax information, when verified, can be added to the tax table during setup.
Payroll and Tax Configuration
Payroll and tax information should be researched and annotated before implementing company setup through QuickBooks. The strategy is to ensure that city, state and federal rates are correctly implemented into the tax table for sales and payroll purposes. Tax rates and information change annually; the advertising agency should verify the current tax rates before setting up tax tables in QuickBooks.
Vendor Information
The vendor list information in QuickBooks is important because it provides detailed information concerning vendors, their tax identification numbers, email addresses (for emailing of purchase orders and invoices), vendor discount rates and contact information. QuickBooks vendor lists are integrated with the purchase and invoice module programs. Vendor information should be completed as much as possible during the setup function.
Client, Item and Service Lists
The QuickBooks automated feature in setting up an advertising agency allows your company to establish client list files. Client list files provide information on clients, such as email and account numbers established by the QuickBooks system. Item lists provide inventory that an advertising agency has on hand, such as paper or specialized advertising products for customers. Service lists include detailed descriptions of special services offered by the company, such as billboard advertising spaces for clients. All lists should be completed at this point of the setup.
Non-Setup Automated Features
Non-setup automated features for advertising agencies are features that aren't automated in the initial QuickBooks automated setup but are still important to company operations. Online banking is a feature that can be initiated outside of the initial setup. A strategy in establishing online banking features through QuickBooks is to communicate with a banking account representative on information needed by the company to integrate the QuickBooks banking feature with the bank used by your company.
Network Considerations
QuickBooks is an accounting software program that is a "network" program, which means that several users can access different parts of the software at the same time. An advertising agency with several employees should create a plan on what data resources can be accessed by various employees.