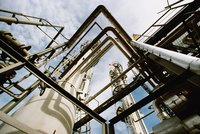 Manufacturing plants consume copious amounts of energy, but there are several ways to save energy in daily operations, and employees can be assigned as "energy ambassadors" to help enforce energy-saving activities. By focusing on two energy zappers, temperature control and machinery efficiency, you can become greener and save money.
Appoint an Energy-Saving Committee
Some manufacturers rely on teamwork to save energy at their plants, appointing employees to monitor all functions of the manufacturing process, from administrative to production. Teams can kick start energy savings by having a brainstorming session at which they generate ideas for ways to save energy in their plant. The team, along with help and funding from company management, can then implement the changes.
Control Heating and Cooling Costs
Upon examination, your plant managers may find that workers are either too warm in the winter or too cold in the summer. Especially in plants with machinery that keeps the manufacturing floor warm, you may overheat the building in winter. Talk to employees, test a few days when you adjust the temperature accordingly and go from there. Adjusting the temperature, even slightly, can result in significantly lowered energy consumption--not only making you greener, but saving you bundles of money in the process.
Keep Machinery as Efficient as Possible
At many manufacturing plants, the machinery can be, by far, the largest energy burner. It is important that equipment runs at optimum efficiency, which requires regular maintenance and checkups. Additionally, retrofits and upgrades may be able to lower the energy usage of your equipment. Speak with the technician or maintenance employee who works on your equipment. In other cases, replacing old equipment and machinery may be a one-time investment that could pay off for years to come in the form of energy savings.