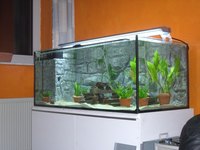 When it comes to changing the water in a 30-gallon fish tank, it is important to pay attention to details.. Too many changes -- or too few -- can be unhealthy for the fish. To give fish the best life possible, clean the tank on a regular basis to ensure a healthy environment.
Determining Factors
The number and size of the fish will determine how often the water has to be changed. More fish and bigger fish mean more feces. Also factor in the amount of leftover food in the tank. Only feed the fish what they can eat. When feeding time is over, remove as much of the leftover food as possible. This will lengthen the time between cleanings.
Daily Checkup
Check the water level daily to make sure that it is not too low. Water will naturally evaporate, so check that it's at an appropriate level, about 1 to 2 inches below the top of the tank.
Weekly Cleanings
Each week, remove a couple of gallons of the old water and replace it with clean water. That removes chemical buildup. It is also wise to check the water quality each week. Buy a water-testing kit at a local pet supply store. Also scrape off algae buildup from the walls of the tank.
Monthly Cleanings
On average, you'll clean the filter and change out the filter and charcoal pads on a monthly basis. If you have to do this more than once a month, you may have the wrong size filter for a 30-gallon tank. When shopping for a tank filter, base your decision on tank size instead of price. Every filter will list the size tank it can accommodate. It is always better to go up in a size to ensure the filter is big enough.
The entire tank should be emptied, cleaned and refilled once a month. Do not clean the tank with soap, as leftover residue can kill the fish. This is when live tank plants must be pruned and when little ceramic or plastic castles or other decorations must be cleaned.