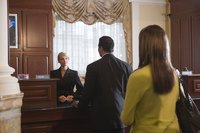 When you're in a foreign country, you know you'll be spending money on travel, food and lodging. You'll be spending money to convert your dollars to local currency, but who wants to pay hidden or confusing charges for exchanging currency? It seems everyone from the street vendor to the world banks have found ways to tack on extra charges for currency exchanges, but with a little planning, you can find the cheapest way to exchange money in banks.
Check with your own bank
Before you ever leave home, estimate the amount of money you'll need for your travels and ask your banker to get it for you in the currency of the place you'll be visiting. If you are a regular customer, chances are you will get a favorable rate.
Use an ATM machine
This can be tricky, because some foreign ATM machines add a conversion fee. It may be worth it to open a free checking account with a bank that has branches in the country you're visiting, so you will pay neither a "foreign ATM fee" nor a conversion fee.
Do your homework
Learn about exchange rates by going to Internet tools on the website of "The Savvy Traveler," a National Public Radio program. Know exactly how much the dollar is worth in the countries you are visiting, so you can make intelligent decisions about whether or not you are paying the going rate. Learn enough about the language to know the terms for extra charges at the ATM machines in banks.