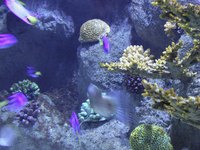 Before you can add fish to a marine or saltwater aquarium, conditions have to be right. This means waiting—often for several weeks—to ensure your new pets can survive. This can be a frustrating process, but it's worth it in the end. Waiting helps ensure that your saltwater jewels will thrive in their new environment.
Setup
Setting up a saltwater tank is more complex than setting up a freshwater aquarium. Freshwater fish have evolved to be more tolerant of changing water conditions than ocean fish, which usually have a constant environment. This means that your saltwater tank must be stable before any fish are added. Saltwater tanks usually require a protein skimmer and live rock, rather than an undergravel filter. Most will require a heater, as well.
Choose live rock and live sand from a trusted dealer—"live" in this context refers to the tiny plants and animals already living in the substrate of a healthy tank. Avoid playground, construction or sandbox sand. Use only marine-safe paints and glues on the inside of your tank. Set up all filters and other equipment and add pre-mixed marine water before plugging them in.
Curing
Once the tank is decorated, full of water and has a working filter, it can be tempting to start adding animals. You should not do this—the shock will kill your stock. The live rock needs to be cured to filter properly. Drain some of your tank water and add the rock to the middle of the tank. Aim your powerheads at the rock, so they blow debris off of its surface. Top off the tank with some of the reserved water.
Curing the rock can take between a week and two months. It depends on the condition of your rock and how well you care for it. Turn the power off every few days to scrub the rock with an old tooth brush. Siphon out the debris and refill the tank with new salt water. Your tank may smell while the rock is curing. When the smell disappears, it's a good sign that your rock is ready. Use a test kit to make sure. You should see no reading for nitrites or ammonia, and some nitrate readings.
Substrate
Drain some water again and turn off the power to add sand. Wash the sand in a bucket before adding it. Allow the tank to settle for a few days, and keep an eye on the water quality, including specific gravity, pH, nitrite, nitrates and other levels. You can't add fish until the tank has cycled and has appropriate readings for the species.
Add Fish
Your fish should go through quarantine before you place them in the tank. Add only one or two at a time, since the tank needs a chance to adjust to the biological load. Remember to acclimatize the fish to the new tank water a little at a time. Don't just dump them in. It may take a while, but the result is a healthier aquarium. Add new fish when tests tell you the tank has cycled properly.