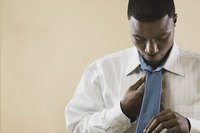 Fashion experts agree that a man's belt should match his shoes. CareerBuilder.com ranks mismatching belts and shoes as one of the top 20 "wardrobe malfunctions" job hunters make during interviews. What you wear matters--from your hat to your shoes, and everything else in between.
Belts and Shoes
Whether you're dressing for a job interview, a crucial business meeting or a distinctive social occasion, it's important to be taken seriously by people in a position to hire, fire or potentially criticize you for the clothing you choose to wear. Use the matching belt/shoe rule for brown, white or black shoes. Avoid trying to match belts with other colored dress, casual or athletic shoes since trying to do so might result in an even bigger fashion blunder. Black shoes and belts are often preferred over brown, and traditional lace-ups or wingtips over slip-on shoes.
To Spend or Not to Spend
Wear leather belts and shoes, or at least a passable faux leather. Don't worry about trying to find expensive leather shoes and belts if your finances are tight. It's more important to focus on looking tidy and presentable with a belt that matches the color of your shoes and not your tie. Very few people, if any, will know if the items were purchased from a large, chain discount store, a thrift store or a high-profile store that specializes in men's fine apparel.
Additional Tips
Now that you've selected a belt that matches the color of your shoes, bear in mind that if you wear a watch, the silver, gold or other metallic color of your belt buckle should match the color of the metal on your watch. Socks may be either dark and conservative or closely match the color of your trousers. Wear socks that are of a suitable length, or the point of matching the color of your belt to your shoes will soon be overshadowed by a startling glimpse of hairy skin.
Since ties follow the whims of fashion, it's wise to wear a silk tie, if possible, and one that's neither too wide nor too thin. Select a tie that suits your personality or fits with the occasion, experiencing a well-earned sense of freedom from fashion constraints now that you've established that there is no correlation between the color of a tie and the color of belts or shoes. Avoid, however, wearing ties that sport comic-book heroes, dancing women or cute cartoon characters to achieve an understated look.