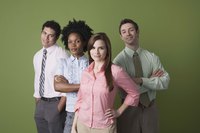 Handling project team conflict effectively involves managing concerns about time, budget and other constraints. By acknowledging different personalities and conflict resolution styles, you can resolve disputes and complete work without compromising an individual's integrity. Establishing a culture in which open communication is fostered is essential to ensuring team cohesion. When conflict does occur, encourage team members to avoid heated arguments and to respect different opinions in order to come to an acceptable compromise.
Encouraging Team Collaboration
Effective teams form when creative individuals work together smoothly to achieve a common goal. When you encourage active participation in problem resolution and decision making, you must balance approaches in order to achieve your objectives. Conflicts arise over differences of opinion; by recognizing problems early in the process, though, you can avoid distracting or destructive actions. With guidance, team conflict can produce positive results. By balancing change and the status quo, you can facilitate team discussions that produce decisions that work for both the short and long term.
Managing Personalities
Differences in personality style can lead to problems if neglected. Encouraging team members to recognize that there is more than one way to solve a problem and to accept input from others enables a nurturing environment conducive to producing results. Unresolved tension and stress can cause ongoing problems. So it is advisable to suggest that team members take time to empathize with their peers before concluding a situation is irreconcilable. To defuse volatile situations, propose alternative solutions and encourage debate. By acknowledging a problem exists, team members can work together to focus on a solution. Using active listening skills allows team members to avoid judging other opinions prematurely without having fully heard and examined a proposal. Encouraging team members to accept cultural differences enhances a global team's ability to work effectively.
Using Conflict to Produce Results
Aggressive deadlines and commitments can cause teams to experience intense conflict, but viewing these challenges as an opportunity to think creatively, evaluate new options and forge a successful path ensures success. Encouraging good communication helps mitigate conflict. Some conflict in inevitable, however, and must be dealt with so the team's ability to work together is not irreparably comprised. Reflecting on conflict after the crisis has passed can lead to new ways to work together. If all else fails, asking for help from an outside party such as a facilitator or mediator can help long term and often is the best course of action for a team experiencing extreme conflict management issues.