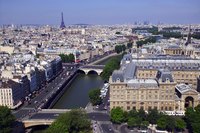 Living in the fashion capital of the world, Parisian men have a sense of style that is different from that of men in the United States. Clothes are worn more for fit and style than for comfort. In the summer on the streets of Paris, France, you won't see native men wearing baggy shorts, baseball caps, flip flops, or loose t-shirts. Instead, you'll notice linen trousers, comfortable dark walking shoes, and buttoned light-weight shirts. If you don't want your outfit to scream, "I am an American tourist!", follow our guide for what to wear in Paris, France in the summer.
Wear Comfortable Shoes, Not White Tennis Shoes
In Paris, white tennis shoes and running shoes are worn for a purpose: playing tennis or running. Invest in a pair of neutral-colored, black, brown, or tan walking shoes. Walking shoes are especially designed to be lightweight and supportive, and to fit in the heel but expand in the footbed, so that your toes aren't scrunched after a long day of pounding the pavement. Shop for European brands such as Ecco, Mephisto, Geoxx, or Pikolinos. You'll be surprised by how much more comfortable you'll be walking on cobble-stoned and marble surfaces than you would have been in your favorite pair of Nikes or Reeboks.
Leave Your Athletic Wear at Home
Leave your t-shirts, basketball shorts, bright-colored windbreakers, and baseball caps at home. Instead, pack lightweight pants and light button-down shirts. If you can pull it off, skinny pants and jeans and fitted shirts are the norm on Parisian streets. For chilly evenings, wear a sport jacket instead of a sweatshirt or windbreaker. Dress a step up from how you do in the States. In Parisian culture, cafes and stores are often an extension of people's homes. Would you dress sloppily when visiting the home of a new acquaintance? If not, don't do so in Paris.
Pack Pants instead of Shorts
Since it rarely gets extremely hot in Paris, and since Paris is an urban environment, pack lightweight pants. In summer, Parisian women tend to wear short skirts or sundresses and men wear pants or capris. Unlike in the U.S., you'll rarely notice capri pants on women, but you'll see many men sporting capris. If you'll be spending time in both Paris and sunnier locale, like the south of France, pack a pair of pants that zip off into shorts. You'll have two looks and save on packing space.