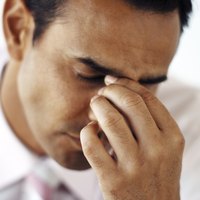 The septum is the band of cartilage in the center of the nose that divides it into two separate nasal passages. While most septums are off center (80 percent according to the Children's Hospital of St. Louis website), a deviated septum is when the cartilage is actively blocking one nasal passage. This can make things like proper breathing difficult for the person suffering from the condition. Fortunately there is a simple surgery that can fix a deviated septum. Like the surgery, recovery is also relatively easy.
Immediate Effects
There are a number of conditions that you'll have to deal with immediately after a septoplasty. First there will be swelling around the nose and eyes, and it's very likely that you'll have soft splints in your nose so the septum can heal and maintain its new position. In addition, you may have your nostrils packed with gauze or cotton for much the same reason. Make sure the nose isn't disturbed and that the packs or splint are left in the nostrils to do their job. This reinforcing material is usually left in the nose for three to five days.
Rest and Relaxation
As with any surgery one of the key components of recovery is getting proper rest. Septoplasty is no different. People who undergo this surgery will have to be driven home, and according to drsinha.com, it's not uncommon for those who undergo the surgical procedure to take off one to five days from work to stay home and rest. Patients should avoid any sort of heavy lifting or intense exercise for at least two weeks after the surgery. The same is true of air travel, since the pressure could create problems with a recently repaired deviated septum.
Pain
There is some mild pain, swelling and bruising that usually accompanies a septoplasty. The pain can be easily controlled with a prescription pain reliever. Make sure your doctor knows about any allergic reactions you have to pain medications, and then take them as directed. If pain persists after several weeks, call the doctor. Scheduling a followup examination may be a good idea to ensure there are no other side-effects.