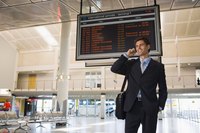 Traveling salesmen are sometimes referred to as road warriors because of all of the miles they pile up in the course of doing business. The miles traveled are not the only obstacle that a traveling salesman must deal with; there are also the expenses that come up every day on the road. Business expenses for a traveling salesman originate from expenses that are not reimbursed by the company. However, not everything a traveling salesman does on the road can be written off on their taxes.
Transportation
According to BusinessTaxRecovery.com, when you pay for your own transportation while on the road, and you are not reimbursed by the company, then some of it can be written off on your taxes. Car rental costs along with the cost of gas are deductible on rental cars, and mileage deductions are available for use of a personal car. But there are some travel expenses that are not tax deductible. Any traffic tickets or moving violations you receive cannot be deducted, any repairs due to an accident cannot be added to your taxes and any rental of a luxury vehicle such as a limousine is also something that cannot be put on your federal tax return. Plane tickets paid for out of your pocket are deductible, as well as bus and train tickets as long as they are for going from one meeting site to the next.
Meals
The best way to justify writing off a meal as a business expense is to keep detailed records of who was at the meal, what was discussed and what business was transacted. According to Stephen Parezo writing on the Smart Pros website, it is not enough to say you took a business associate out to lunch, and then use the lunch as a tax deduction. It is important to get a receipt after each meal to prove how much was spent on the meal, and then note on the receipt the details of the meal. If it is considered an entertainment expense then only half of the cost can be written off. A legitimate travel expense is a 100 percent write-off. So that expensive meal you took your client to that was not reimbursed by the company is only 50 percent deductible on your taxes.
Ordinary And Necessary
One of the guidelines you can use to determine if your expense could be tax deductible is if it can be considered ordinary and necessary for your line of work. Having your business suits dry cleaned while on the road could be considered ordinary and necessary, but purchasing a new suit in every town would not be considered deductible. According to Completetax.com if an expense is completely and justifiably business related, and it cannot be deducted on another part of your tax return, then it can be considered a tax deduction. However, if the Internal Revenue Service decides to audit your return, you need to be ready to prove that all of your business deductions were ordinary (normal ongoing business expenses) and necessary (you need them to conduct business) or else you may be hit with a fine.