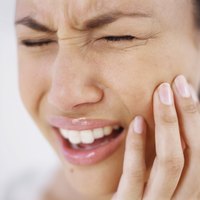 Red, inflamed and tender gums characterize dental abscesses. Pockets of pus and dead cells are being eliminated from the body through an infective process. Treatment usually consists of thorough drainage and cleaning, and may involve tooth extraction or antibiotic medication. Home remedies can temporarily alleviate pain and may speed healing.
Medication
Over-the-counter pain remedies such as ibuprofen and acetaminophen can help, especially if the abscess is periodontal, involving areas surrounding the tooth and causing general malaise, fever and swollen lymph glands. Phyllis Balch, nutritionist and author of "Prescription for Nutritional Healing," suggests supplementing with B vitamins and probiotics, found in yogurt, kefir and other fermented foods, to bolster the immune system against the infection that is causing pain. These nutrients also help your body recover a normal balance of "friendly bacteria" after you take prescribed antibiotics.
Heat and Cold
Ice packs are a standard remedy for toothache for good reason; they relieve swelling and pain. Heat from a hot water bottle or warming pad can also make the pain from an abscess feel better, and has the beneficial effect of increasing circulation to fight infection. It is fine to alternate treatments, 15 minutes on and 15 minutes off.
Mouthwashes
A mild saltwater solution, swished around and repeated frequently, can relieve pain. Balch suggests the use of an infection-fighting herb: "Echinacea tea or extract in warm water can be used as a mouthwash for dental abscesses. Be sure to prepare it warm and rinse your mouth with it every two hours." People with an autoimmune disease should not use echinacea.
Poultices
Poultices are made from substances ground to a paste and applied to cloth, or between layers of cloth, and moistened. Poultices when applied on the outside of a swollen cheek reduce inflammation and thereby relieve pain. Balch recommends the herb chamomile used as a poultice to treat dental abscesses. She also advises drinking a cup of chamomile tea three or four times daily for this condition, and getting plenty of rest. An ordinary teabag is a different type of poultice. Placed against the abscess, it should have an astrigent effect and relieve pain. A cotton ball saturated with baking soda and salt will have a similar action. Do not use moistened aspirin tablets or full-strength hydrogen peroxide in the mouth. These substances can cause increased tissue damage and chemical burns.