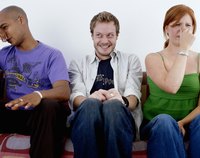 Chronic gas usually results from lifestyle habits and diet. If left unresolved, gas can worsen and cause abdominal bloating and stomach pain. Fortunately, there are quick ways to remedy gas problems. And while medications are effective remedies, it's possible to get rid of gas with natural or home remedies.
Natural Supplement
Many healthy foods such as vegetables and fruits can cause gas, especially if eaten is large quantities. Common gassy foods include lettuce, cauliflower, beans and broccoli. Because vegetables and fruits are a good source of fiber and they're essential to a healthy lifestyle, eliminating these foods isn't an option. Rather than stop eating your favorite vegetables and fruits, consider taking a digestive enzyme before meals to ward off gas. These natural supplements are available over the counter from drug stores and health food stores. Take as directed to control gas.
Limit Certain Beverages
Along with food, certain drinks such as sodas and milk products can trigger gas. Soda contains carbonated water, which can cause gas in your stomach; dairy products like milk, cheese and yogurt contain lactose, which is often difficult to digest. Reducing your intake of carbonated beverages can lessen stomach and intestinal gas, and decreasing your consumption of lactose products can also remedy gas and prevent future problems.
Because milk is a good source of calcium and vitamin D, consider taking a calcium supplement to promote healthy bones, and talk to your doctor about vitamin D supplements. Digestive enzymes are also available to help you digest lactose, as are lactose-free dairy products.
Stop Constipation
The ability to have regular bowel movements may also play a role in chronic gas. Constipation triggers a host of symptoms such as intestinal gas, bloating and pain. Fortunately, constipation rarely points to a serious medical condition, and lifestyle changes can generally prompt intestinal activity and relieve gas.
For starters, it helps to consume the right amount of fiber each day. According to the Mayo Clinic, adults ought to consume around 20 to 35g of fiber a day to maintain regular stools and digestive health. Fiber can come from whole grains, vegetables and fruits, or from fiber supplements available from drug and grocery stores. Regular exercise can also remedy constipation (30 minutes three times a week), as does increasing your water intake to keep the intestinal tract hydrated.
Other Remedies
Other factors also contribute to chronic gas such as eating habits and smoking cigarettes. To stop gas problems completely, assess your habits. Talking while chewing your food, eating large meals and eating too fast can bring on gas after meals. Using a drinking straw and smoking cigarettes increases the amount of air released into your stomach. Excessive air in the stomach is a primary cause of gas.