Inositol exists in several different forms, which is why you may find it referred to by a variety of names, such as IP-6, myo-inositol and inositol hexaphosphate. While inositol makes important contributions to your health and metabolism, you don't need to include it in your diet because your body produces it. You can increase inositol levels by eating certain foods, but the same substance that boosts inositol also blocks absorption of some minerals.
Inositol Overview
Even though it's a type of carbohydrate, inositol is not used for energy but fills other essential jobs. Inositol helps your liver process fats and supports the function of muscles and nerves. It's one of several substances that form the outer membrane surrounding cells throughout your body, helping to regulate cellular functions. Inositol affects the amount of serotonin in your brain, which is a neurotransmitter that affects moods. It also shows potential for preventing colorectal cancer, reported an article in the "International Journal of Molecular Sciences" in December 2013.
Boosting Inositol Levels
Plants naturally contain phytic acid, which stores phosphorus and is known as phytate when it's bound to a mineral. When you eat plant-based foods, bacteria in your digestive tract break down the phytic acid, resulting in the release of inositol. However, phytic acid binds with iron, zinc, calcium, magnesium and copper in your digestive tract. This prevents them from being absorbed and can lead to a mineral deficiency. Before you significantly increase the amount of phytic acid in your diet to boost inositol, talk to your health care provider to be sure you don't need to worry about loss of minerals.
Whole Grains and Legumes
Phytic acid is found in the bran and germ of seeds and grains, so rice bran, wheat bran and wheat germ are three of the best choices. Others at the top of the list include wild rice and soybeans. Whether you go with wheat, corn, rye, rice, oats or barley, as long as you choose whole grains they're good sources of phytic acid. Beans, sesame seeds and products made from whole grains, such as whole-wheat bread, are all good choices. Nuts are generally good sources, but peanuts, almonds, walnuts and cashews have more than other nuts. Sprouting reduces the phytic acid content of beans, seeds and grains.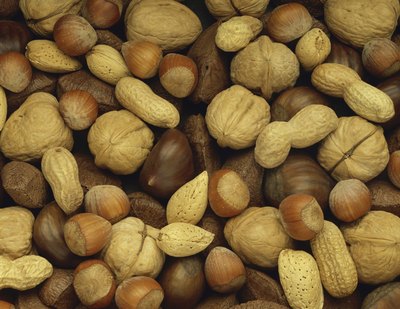 Fruits to Choose
Fruits and vegetables contain a small amount of phytic acid, but a handful of fruits give you about as much as you'll get from whole grains and beans. Fresh cantaloupe, oranges and grapefruit are good sources of phytic acid. You'll also get it from citrus juices, but fresh fruits provide a more reliable source because the amount in frozen and canned citrus juices is more variable. Other good fruits for increasing your inositol levels include kiwi fruit, nectarines, mangoes, dark cherries, prunes and dried peaches.