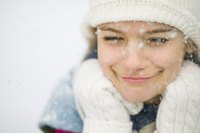 Many people have washed their wool clothing in the washing machine only to pull out shrunken, stretched, or misshapen pieces of clothing later on. Wool is particularly prone to shrinking and changing shape due to its woven and malleable nature. It's also prone to becoming fuzzy and developing little fabric pills. There are ways to prevent this. You need only be aware and careful.
Washing Wool by Hand
The best way to wash wool is to use your hands. Fill a plastic tub or very clean, deep sink with lukewarm water. The water should be warm enough that you can feel it, but by no means hot enough to scald. Pretend you are washing an infant and make the water the appropriate temperature. Add a little wool-safe detergent or baby shampoo to the water and stir it with your hands until a light foam forms. Set the wool item into the water, gently poking it to submerge it completely. Soak the item without disturbing it for about 15 minutes. Lift the piece gently from the water and lay it on a thick towel. Do not let any parts of the clothing dangle; fold sleeves and sweater bottoms over before lifting them.
Rinse out the tub or sink and fill it with cool water. Again, it should be cool to the touch but not icy. Soak the clothing for another 15 minutes, then drain the tub or sink as before. Spray any remaining soap out of the item with a very low-pressure spray while the item is lying flat in the bottom of the sink or tub.
Lay the item out on a flat towel and roll it up, pressing lightly to remove excess water. Unroll the towel and let the item dry flat, touching it as little as possible. Once dry, fold it and store it away or hang it on a padded hanger to help it retain its shape.
Lined Items and Suits
Do not wash items with any kind of a lining or thick items like wool pants and suits. These items are very susceptible to shrinkage. Lined items are very difficult to iron and run the risk of being ruined by steam and warm water. Take these items to a dry cleaner or purchase a home dry-cleaning kit. Use a brand-name dry cleaning kit and follow the directions exactly. Use a low heat on your dryer to avoid shrinkage.