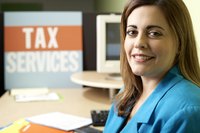 Failing to pay state taxes can result in massive consequences. The state government can place liens on your bank accounts and personal property to collect on the back taxes. In some cases, you may also be prosecuted for tax evasion. Luckily, there are options for individuals who fall behind in their state taxes. States periodically run tax amnesty programs that waive some penalties and allow individuals to settle their state tax bills without having to endure adverse actions.
Remain Calm
Finding out that you can't afford to pay state taxes and maintain your living situation can be a terrifying experience. The best way to reduce your stress in the long term is to take an objective look at your situation. Avoiding the problem can reduce your anxiety in the short term, but it will only compound the difficulties. Examine your spending and determine what costs you can cut to free up funds to pay your back taxes. In some cases, you may have to do things like sell expensive cars, move to a cheaper living situation or take on additional work.
Contact the State
Contacting the state early can save you substantial difficulties in the future. If you remain in touch with the state tax department, it'll be less likely that you'll have to pay severe penalties in the future. In many cases, you will be allowed to file your late returns with lower penalties than may be legally allowed. States are relatively less aggressive on collecting back taxes compared to the federal government due to a relatively weaker resource base.
State Tax Amnesty
Most states periodically offer tax amnesty periods to attempt to solidify state budgets. These periods are not predictable, as they are held at the behest of the state legislature. If you act during such amnesty periods, you can usually pay all back taxes without penalties or interest, discharging all related tax liabilities in the process. The exact values of the waivers differ depending on the state and the decision of the legislature at the time. For example, the Hawaii tax amnesty of 2009 waived all penalties and half the interest accrued on back taxes.