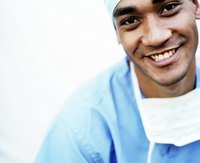 Malpractice insurance premiums continue to rise, causing many doctors to work harder than ever to cover themselves in case of a lawsuit. In order to protect their assets against a malpractice suit, many doctors up their level of coverage, resulting in an even higher cost. These malpractice insurance premiums can total thousands of dollars. Fortunately, with appropriate tax planning, doctors can deduct some of these premiums from their taxes.
Insurance Deductions
Changing the policy limits is one of the first steps many doctors take when they realize that they're being routed for malpractice insurance. Both lower and higher limits have been touted as the appropriate response to rising premiums; however, these scenarios result in either less coverage or greater premiums. One course of action that saves many doctors a fortune in the long run is to deduct the expenses of malpractice insurance premiums on their yearly income taxes. Not only is such a deduction allowed, it is encouraged as it is necessary for the livelihood of many doctors.
How It Works
Ordinary and necessary expenses for many businesses are allowed to be deducted from an employee's income tax. This includes passports for business travel, legal fees, even "ordinary and necessary" entertainment expenses. For doctors, the Internal Revenue Service (IRS) allows malpractice insurance premium payments to be deducted from taxes. Deductions are itemized on Form 1040A, the same as tax deductions for charitable contributions and the like. Malpractice insurance counts as a miscellaneous itemized deduction.
Seek Help
Deducting malpractice insurance is not the only step a doctor can take in ensuring that she can make the necessary income in spite of high insurance premiums. Seeking out a professional with knowledge of malpractice insurance, the medical industry, and tax law allows a doctor to plan his taxes appropriately. Additional tax advantages often available to doctors go unclaimed by many. Similarly, asset planning can help a doctor to further lower the amount of income taxes that must be paid by determining what items and purchases may be deducted from the doctor's income tax, offsetting the high insurance premiums many doctors pay.