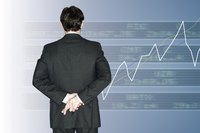 Many traders find it frustrating and counter-productive to watch the stock market all day while waiting for a trade set-up but there is a better way to profit in the stock market without being glued to a quote screen all day. Using a few simple overnight stock trading strategies you can profit consistently and enjoy more free time.
Setting Up Shop
Go to a computer and log on to a free charting service, such as FreeStockCharts.com. Click twice on the "New Charts" tab at the top of the screen, and two charts will appear on the screen. Mark one as the Quotes Chart and input all the stocks that make up the Nasdaq 100. Mark the other as the Price Chart and select the daily price selection at the top of the screen. Then, click the upper right-hand tab on both charts to link them, so that as you scroll through the list of stocks on the Quotes Chart, the price action appears automatically on the Price Chart.
The RSI
Select "Indicator" tab and click the Relative Strength Indicator (RSI) to appear at the bottom of the chart. Edit the RSI to have a 2-period setting and edit the overbought levels to 75 for the upper level and 10 for the lower level
Setup
Scan your list of stocks to find a stock that is nearing the close for the end of the day but is registering oversold under the lower 10 level of the RSI at the end of the day. Buy the stock going just before the close of the market. Stastistically, when the market registers short-term lows in an oversold condition it has shown that price will snap back for quick profits within three to seven trading days.
Taking Profits
Exit the position when price snaps back to register a reading of 75 or higher on the RSI going into the close of the day you will sell your position.
Final Word
Respect risk at all times by controlling the size of the position on this set-up because there is no defined rule for a stop loss point other than the RSI's exit signal. Therefore, be sure to control your size on this position as a way of limiting your exposure.