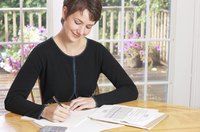 Internal controls are the guidelines and processes companies use to safeguard sensitive financial information. While companies have used internal controls for decades, the Sarbanes Oxley Act of 2002 (SOX) significantly increased the amount of internal controls for public companies. While internal controls are specific to a company and their business operations, a few basic controls are common among businesses.
Segregation of Duties
An important step in creating internal controls is the segregation of duties in the accounting office. Segregating duties ensures that one individual is not responsible for all steps in a process, such as counting cash, preparing deposits and posting cash entries in the general ledger. Separating these responsibilities cuts down on possible fraud or embezzlement by employees.
Writing detailed job descriptions for employee positions in the accounting office is a good start for segregating duties. Creating positions with specific job duties helps employees understand what they can and can not do in the office.
Limiting Information Access
Another control in the accounting office is limiting the access employees have to financial information. Most companies use computerized accounting software in their operations, allowing managers to decide which employees can access the accounting modules. Most offices limit employees by department, such as accounts payable, accounts receivable and general accounting. Limitations also depend on the software system and number of accountants employed in the company.
Review Process
SOX legislation created new mandates that require accounting managers and controllers to review pertinent information prepared and recorded by staff accountants. Reviewing accounting information ensures that internal rules are being followed and financial information is recorded according to Generally Accepted Accounting Principles (GAAP). Managers will review the financial information, and date prepare and verify the calculations are correct. The review process is usually completed prior to financial statement preparation.
Monitor Operations
Monitoring the accounting work flow helps managers discover risky accounting operations and material weaknesses in the accounting department. Risky operations may cause a breakdown in segregation processes or allow employees the opportunity to embezzle money from the company. Material weaknesses indicate dollar amounts that represent significant portions of a company's financial information. Providing adequate supervision of important and high-value business operations ensures that fewer control violations will occur and company information is secure.