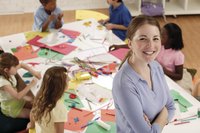 The economy not only affects our personal lives but those of our children as well. Although middle school art projects allow the students to learn in a hands-on environment, the cost of supplies for the school district puts a damper on what the kids can do. There are cheap middle school art projects that are fun and interesting that kids will enjoy creating.
Environmental Awareness
Kids no longer remain oblivious to what is happening in the world. They are familiar with politics, the economy and the environment. Schools everywhere are teaching how to recycle and the concept of "going green." Turn this knowledge into an art project by creating posters emphasizing the important of environmental awareness. Have the kids bring in things from home they can recycle into customized wall art. From the plastic rings on the soda cans to junk-mail flyers, let the kids create posters showing how to "Renew. Reuse. Recycle." Stage an art exhibit showing off the students' creations. Allow other faculty members to award show ribbons, best of show and honorable mention through blind judging. Contact parents, asking for donations of cookies and punch to serve during the exhibit. The kids earn some well deserved recognition, and the parents get the honor of being involved in a true cultural experience.
Seed Trees
Seed trees make fun, attractive gifts anyone can create with a few simple supplies. An old bottle (plastic or glass) and some seed packets transform into a great spring time gift for Mother's Day or even Easter. The kids supply the seeds, the container and twigs. Paint, string and other simple items are all that is required to plant the seed trees. Envelopes, created out of colored paper, hold the seeds for the tree. A hole punch makes a hole, so the envelope can be tied to the trees. An old gardening catalog provides pictures of the seeds in bloom that are glued onto the the seed envelopes. Place the twigs in the bottles, hang the seed envelopes onto the twigs, and add bows or cards for gift giving. The decorating process remains with each creator as to how simple or complex the design becomes.
Self-Portrait in Cloth
Instead of the usual drawings of self portraits done every year, add a twist with texture and cloth. Have each child bring in a piece of material. Scrap sizes are fine. The idea is to create a picture of the student using the cloth pieces. A table set in one section of the room allows the students to gather what they need of the cloth and then going back to their own work stations and gluing the fabric into their own self-portraits. Explain texture in the material works just as well as color when trying to express hair or other identifiable features. Discussions of abstract artists, while creating this inexpensive art project, keep the experience even more educational.