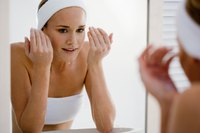 Having an oily face can result in acne problems and ruin otherwise perfect makeup. However, this issue can be controlled at home without visiting a dermatologist and spending lots of money on expensive skin care products.
Don't Skip Your Moisturizer
Although it seems contrary to common sense, you should still wear moisturizer if you have an oily face. In fact, if your skin gets dry, oil glands can kick into overdrive and end up overcompensating for the lack of moisture.
However, not just any moisturizer is right for oily skin. Choose a formula that is oil free and non comedogenic, which means it won't clog your pores. There are also many formulas on the market that aim to control oil and provide a matte finish. Always wear sunscreen with at least SPF 30 protection during the day.
Apply Makeup Like a Pro
The type of makeup you wear and the way you apply it can have a big effect on how oily your skin becomes throughout the day. Skip greasy foundations and opt for an oil-free formula. Better yet, skip foundation entirely. After applying moisturizer, use oil free concealer under your eyes and to cover your problem spots. Finish by lightly dusting oil-free translucent powder on your face.
If you need more coverage, try using mineral makeup. It will help control oil production and cover your acne without causing new breakouts. Be sure that every makeup product you use is oil free, including blush and bronzers.
Manage Oil Throughout the Day
Even if you follow all of the advice above, your skin will probably still become a little oily as the day progresses, especially in your t-zone. Purchase some oil blotting papers and keep them in your desk or purse to soak up excess oil as needed. Also carry a compact with oil free powder to touch up your makeup if you find that it is melting away.
Always wash your face before bed to remove your makeup and excess oil. Use a gentle, oil-free formula. Skip harsh toners that contain alcohol and keep your skin care regimen as simple as possible.