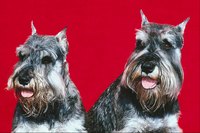 Many dog breeds have problems with skin irritation. In the case of schnauzers, they can be prone to skin irritations associated with sensitive skin and allergies. The symptoms associated with this can cause schnauzers to bite, lick and scratch themselves. This can lead to redness, hot spots and hair loss. Some triggers that can cause a schnauzer to begin exhibiting symptoms are physical contact with grass, dry carpet shampoos, cement dust and even other animals.
Brushing
Daily brushing of a schnauzer is an important way to naturally help with a schnauzer's skin irritations. Brushing assists in stimulating the skin to produce natural oils that can then be distributed by the brush down the fur. It also helps to remove dead skin cells, debris and dirt from the schnauzer's fur. In addition, brushing daily makes it easy for the schnauzer's owner to find areas of dry skin or red spots so they can be treated before the problem gets out of hand and these areas become infected.
Change of Diet
Schnauzers, like other dog breeds, can be susceptible to food allergies. When schnauzers are fed cheap dog foods that have been bulked up with grains, they can sometimes develop skin irritations. One way to avoid this is to only feed a schnauzer dog food where the first ingredient is a protein, such as chicken or beef. Another way is to eliminate the things that the schnauzer is being fed and then gradually reintroduce one food item at a time back into the schnauzer's diet, paying careful attention for any symptoms such as excessive scratching. Once a person discovers which food or foods are causing symptoms, these can be permanently eliminated from the schnauzer's diet. A final way is for a person to make her own dog food for her schnauzer. This can be time consuming and still means that symptoms have to be watched for so that foods that cause symptoms can be eliminated.
Eliminate Fleas
All it takes is for a schnauzer to be allergic to flea saliva to get him to start scratching and biting like mad. If a person notices that her schnauzer is scratching and biting excessively and she allows her schnauzer to go outside and play in the yard often, her schnauzer may be allergic to flea saliva. If a person discovers there are fleas on her schnauzer, then most likely the fleas have infested the house as well. To start with, aggressively clean the home. Begin by vacuuming the carpets and upholstery. Also, have curtains dry cleaned, and wash all the bedding in hot water and detergent. Once the house has been cleaned thoroughly, purchase food grade diatomaceous earth and spread it on the carpets. This will kill any remaining fleas and their eggs that were not caught by the vacuum as it dehydrates them. Leave the food grade diatomaceous earth down overnight and then vacuum it up the next day. Do not purchase pool grade diatomaceous earth for this purpose as it is toxic to people and animals. It is not the same as the food grade diatomaceous earth. Finally, bathe the schnauzer with Dawn dish washing liquid. The oils in this detergent will kill the fleas and prevent the eggs from sticking to the schnauzer's fur. After the schnauzer has been bathed and dried, mix 1/2 part white vinegar and 1/2 part water in a clean spray bottle. Spray this mixture on the schnauzer and work it into the coat with the fingers. This will help keep any remaining fleas off the schnauzer. Spray the schnauzer with this mixture a couple of times a week for maintenance.