In the language of bodybuilders, "bulking" is a conscious effort to gain weight in the hope of increasing muscle mass. There are two general types of bulking--clean bulking and dirty bulking. Dirty bulking focuses on maximizing caloric consumption with little regard for the source of those calories--pizza, burgers and other less-healthy foods are fair game. Clean bulking, on the other hand, focuses upon gaining weight at a slow and steady rate using healthy foods, minimizing fat gain while adding muscle at a reasonable rate.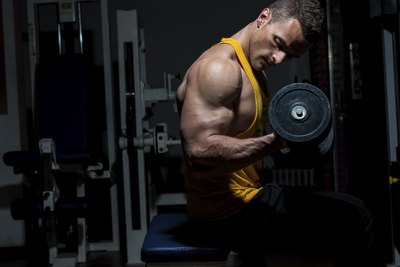 Clean Bulk Diet
Consume a diet consisting roughly of 40 to 50 percent carbs, 30 to 40 percent protein, and 25 to 35 percent fat while following a clean bulking diet. While most of your meals should contain a fair blend of the three macronutrients, the meals before and after your workout should consist of just carbs and protein (in a 2:1 ratio) with minimal fat. This approach will avoid the slowdown in digestion that occurs from fat consumption, helping to shuttle more nutrients into your muscles when you need them most--to prepare you for an impending workout and to recover from a completed workout. Beyond that, each meal you consume should be roughly aligned with the listed percentages--most of the meal should consist of healthy carbs such as fruits, vegetables, brown rice, whole grains and sweet potatoes; a moderate portion of the meal should consist of lean protein from low-fat meat, chicken, turkey, eggs or seafood, and a smaller portion of the meal should contain healthy fat from fat-containing fruit (think avocados), nuts, seeds or healthy cooking oils like olive or coconut. Aim to consume just enough calories to add roughly a pound per week, as this slow but steady rate of gains should be sufficient to enable you to add maximal size without adding excessive fat to your waistline.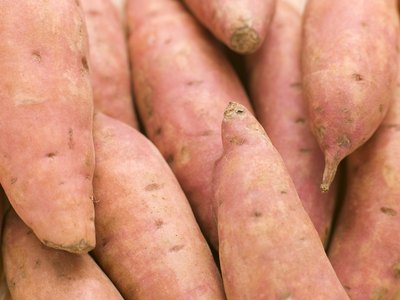 Sample Meals
A sample breakfast while on a clean bulking diet might consist of several scrambled eggs, a bowl of oatmeal with blueberries and cinnamon and several fish oil capsules. A sample lunch might consist of a large garden salad with several grilled chicken breasts, and a few tablespoons of natural peanut butter. A sample dinner might be a lean cut of flank steak served with a sweet potato and a spinach and tomato salad with olive oil or balsamic dressing. As a snack throughout the day, consider blending up protein powder in milk with berries and a tablespoon or two of natural peanut butter for a healthy high-calorie shake to help you reach your goals.