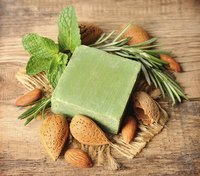 Bath and shower products have become big business, with the products' collective worldwide revenues projected to top $12.85 billion in 2015, according to MarketLine. Shower products make up more than 70 percent of that total, and herbal soaps have gathered increasing attention in this crowded marketplace. By creating appealing products, and by developing appropriate marketing strategies, your business can reach appreciative consumers who are receptive to purchasing herbal soaps.
Building Your Brand
While large companies have gobbled up some of the herbal soap market, industrious small-business owners have also made their mark. Building a recognizable brand is key to your success. When designing your brand, adopt a specific product theme or appearance. Consider creating herbal soaps that evoke varied moods. For example, add lavender essential oil and lavender flowers for a multi-sensory calming experience. Alternatively, remind users of a tropical vacation spot with a coconut-scented soap. Next, create soap shapes, fragrances and packages that reflect that brand's personality.
Designing Your Distribution
Once you have defined your brand and have chosen your packaging, select appropriate herbal soap distribution channels. For mood-evoking or vacation spot soaps, approach spas, hair salons, clothing boutiques and massage studios. For mountain-themed soaps, contact regional gift shops and locally owned camping and outfitters stores. For tropical- or beach-themed soaps, speak with popular resort gift shop owners. Health fairs, fine craft shops and regional festivals also represent potential herbal soap distribution venues.
Online Outreach
Herbal soaps and online marketing were made for each other. Once you develop an attractive, well-organized website with e-commerce capabilities, a worldwide customer base can access your products. Provide viewers with a selection of colorful, nicely staged product photographs, and share your full ingredients list with quality-conscious consumers. Add testimonials to showcase your satisfied customers. Add high-margin complementary products, such as handmade ceramic soap dishes or dispensers. If necessary, hire a web designer and professional copywriter to create a website that reflects your brand. Find an online marketing specialist who can make your herbal soap products more visible in search engine rankings.
Hospitality Partners
Market your herbal soaps to regional hotels and bed-and-breakfasts. Create small bath-sized soaps and larger hand soaps; and assemble soap gift baskets for sale at the lodging's front desk or gift shop. If this concept sounds appealing, but you cannot meet the large product demand, consider working with an herbal soap maker who can provide you with private labeling and wholesale pricing.