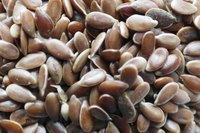 Supplements and practices claiming to clean your colon are sometimes ineffective and may lead to health complications. Further, only limited scientific evidence supports most of the products marketed as colon cleansers. The body has its own detoxification tools, including the liver, microorganisms in the gut and mucous secreted from the intestinal lining. The activities of these internal systems are powered by a varied diet that includes nutrients like fiber. Flaxseed is one such food that can fuel your body's natural colon cleansers.
Get Your Flax Straight
Flaxseed contains three nutrients associated with good health: omega-3 fatty acids, lignans and fiber. Essential fatty acids found in flaxseed, especially alpha-linolenic acid, are associated with improved cardiovascular health and may also lower blood pressure in those with hypertension. Lignans are phytoestrogens linked to decreased cancer risk. Fiber found in flaxseed lends itself to good colon health.
Fill Up on Dietary Fiber
Fiber is a carbohydrate that is not digested by the body. Soluble fiber forms a bulky, pastelike gel in the gut, and insoluble fiber remains largely intact as it travels through the digestive tract. Both types are useful in gut health; the former is linked to cholesterol health, while the latter helps to ease digestive issues, including constipation. Flaxseed contains 1 gram of soluble fiber and 3 grams of insoluble fiber per serving, which is 1 to 2 tablespoons. Healthy adults should consume between 20 and 30 grams of fiber per day, so adding flaxseed can bring a fair amount of fiber into your diet. Note that water consumption should increase with increased fiber consumption to reduce digestive distress such as gas. By consuming proper amounts of fiber from flaxseed and other sources, you improve the overall environment of your colon.
Compounds for Colon Health
Maintaining a healthy colon has benefits such as decreasing digestive issues, strengthening the immune system and slowing cancerous growths. Because colon cancer is the third most diagnosed cancer in the United States, according to CNCA Health, it is important to sustain the colon environment by putting the right foods into the body.
Eating flaxseed is one way it may be possible to improve colon health and decrease colon cancer risk. The fiber in flaxseed helps mitigate digestive issues and is also partially metabolized by bacteria in the gut, a process that releases compounds associated with reduced intestinal inflammation in animals. Lignans in flaxseed have also shown promise in animal models as colon-cancer-preventative compounds. Moreover, the ALA found in flaxseed may have an impact on colon cancer cell growth because it may enhance flaxseed's lignan bioactivity. Nonetheless, more evidence from human studies is needed to understand flaxseed's cancer-preventative properties.
Seeding Your Diet
Flaxseed is versatile in that you can add it to many recipes. The benefits of flaxseed cannot be fully enjoyed unless it is ground because the outer casing of the seed is not easily digestible. For breakfast, ground flaxseed can be added to green smoothies for a boost of fiber and a nutty flavor. More savory dishes for lunch and dinner can also benefit from having ground flaxseed added to them. For example, ground flaxseed can be added to ground turkey meat instead of flour to bind the meat to maintain its shape during cooking. It can also be sprinkled over salads and used as a breading coat for oven-baked meats.
Flaxseed even has uses in vegan baking recipes. One tablespoon ground flaxseed dissolved in 3 tablespoons of water can be used as an egg substitute for cakes and cookies. Experiment with flaxseed to discover how to enjoy the benefits of this nutrient-dense food.