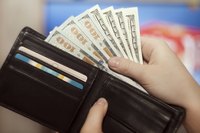 Blind and visually impaired people face situations every day that most sighted people do not really consider. Imagine going to the grocery store, for example, and having to determine which bills in your pocket you should hand over to the cashier. In terms of society and working in the sighted world, blind people are at a disadvantage in handling paper money and coins.
Folding Money
One of the ways blind people identify their own paper currency is to fold each denomination in a different way. The American Foundation for the Blind recommends leaving one-dollar bills unfolded, folding $5 bills once in half, lengthwise, and $10 bills once by width. Fold $20 bills twice - once in each direction. The bills can then be identified easily by touch. There are also wallets available that have separate compartments for each bill denomination. Another approach gaining in popularity is the pocket money brailler, a small inexpensive punch device that brailles any denomination from $1 to $100 onto a bill.
Identifying Coins
Coins are easier to identify than bills, due to their different sizes. Dimes are the smallest coins, and have ridges around the circumference. Half dollars are the largest coins and are also ridged. Quarters come next, and then nickels and pennies. If the blind person reads Braille, their fingers are also more sensitive than a sighted person's; the coins are easier to recognize due to this increased sensitivity. The faces on the coins also differ enough for someone with limited vision to be able to feel which is which.
Technology
Currency readers, like those in vending machines, can identify US currency denominations, from $1 to $100. These devices are portable, but not infallible; in addition, at several hundred dollars apiece, they can be rather costly for casual use.
Potential Changes
According to the American Foundation for the Blind, of 180 nations that print paper currency, the United States is the only nation that uses the same colors of ink for all denominations, and prints them all on the same size banknote. The AFB sued the Treasury Department on the grounds that that standard of producing paper currency of uniform size, shape, and texture discriminates against blind people. A federal district court ruled for the AFB in 2006; when the Justice Department appealed that ruling, the AFB won again in 2008. Changes in size, texture and color could benefit the blind and visually impaired, as well as the elderly.