Watery eyes may be caused by several different factors, but the most common are from dry overworked eyes and allergies. Reading or computer work causes the eyes not to blink as often, which results in dry eyes. Dry eyes cause over stimulation of the tear glands resulting in watery eyes. Allergies to pollen, dust or dander cause eyes to overreact to the foreign particle and result in excessive tear production. Over the counter medicines can relieve most watery eyes.
Dry Eye Treatment
Use over the counter eye drop medication that contains artificial tears. Eye drops such as Thera Tears and Refresh contain artificial tears that sooth and reduce tear production. Read the instruction pamphlet that accompanies the medicine to know how often you may use the medication. Visine eye drops, known to get the red out, do not contain the ingredient carboxymethylcellulose, which is used for artificial tears. Visine may help get rid of red eyes, but it normally does not help soothe dry eyes or stop eyes from watering.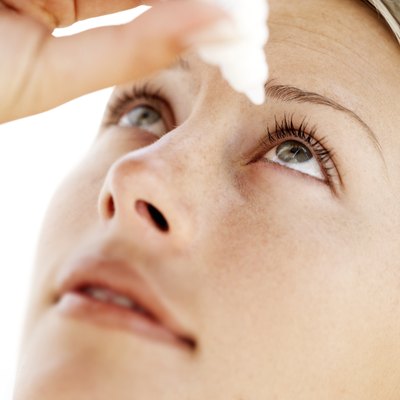 Allergy Treatment
Take antihistamines to combat allergic reactions that cause watery eyes. Allergens invade the nose and sinuses setting off a response in your body to release a chemical called histamine to fight the invading particles. When histamine is released it causes swelling, itching and inflammation in the nose and watery eyes. An antihistamine blocks histamine relieving symptoms. Antihistamines come in several forms including capsules and in eye drop form. Optivar is an antihistamine eye drop that fights itchy watery eyes bringing soothing relief. Benadryl is an antihistamine that comes in liquid, tablet or capsule form, but may cause drowsiness. Claritin is another antihistamine that combats allergens with less side effects. Take a decongestant to reduce swelling and inflammation. Allergens cause nasal tissues to swell and as a result increase mucus production and watery eyes. Your head and nose feels pressure and it may be hard to breathe through your nose. Murine Plus is a decongestant eye medication that relieves pressure and reduces tear production. It also helps reduce swelling in nasal passages improving breathing. Be aware of side effects from any medications. Eye drops may cause stinging and some redness at first. Stop using if you experience pain, have blurry vision or redness lasting over three days. Do not touch the tip of the eye drop applicator to any surface, including your eye to reduce the chance of contamination. See your eye professional if watery eyes continue after several days using over the counter treatments as you may need a prescription medication.