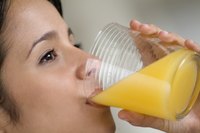 Although a liquid diet may seem like an appealingly quick and easy solution to weight loss, it does not contribute to sustainable health and nutrition habits. Your body is made to consume whole, real foods, so consuming a liquid-only diet can be more harmful than helpful. Talk to your doctor before going on a liquid diet for any length of time.
Health Risks of Detox Diets
Your body is fully capable of removing toxins with the help of your liver and kidneys. There is no scientific evidence proving that a liquid diet is beneficial in accomplishing this. Therefore, not only is it unnecessary for your health, you can even develop issues with blood sugar and bowel function. It may also cause you to feel tired, moody, dizzy, hungry and unable to concentrate.
Because these diets often lack adequate calories, protein, fiber and other nutrients, they are difficult to feel full on, may slow your metabolism and may even lead to nutrient deficiencies. This low nutrient profile also leads to loss of water and muscle, not necessarily fat loss. So once you begin eating normally again, the weight will return.
Lack of adequate nutrition also leaves you more susceptible to infections, especially if you are elderly. Liquid diets are especially concerning if you are pregnant, breast-feeding, diabetic or taking blood-thinning drugs, or if you have a compromised immune system, a sensitive digestive system, or advanced heart, liver or kidney disease.
Lastly, because liquid diet supplements are not strictly regulated like food and drugs, some may contain hidden, dangerous ingredients. Changing your health habits takes time, hard work and patience. There are no quick, easy solutions to long-term weight loss.