A runny nose and cough can be symptoms of allergies, the common cold or the flu. If the cough and runny nose are accompanied by itchy or watery eyes, fever, body aches or sneezing, chances are it's a cold. If the symptoms are severe, including a high fever, it's possible you could have the flu. Allergies typically are not accompanied by fever or body aches. Whatever the cause of your symptoms, there are a number of over-the-counter antihistamines and expectorants that can help.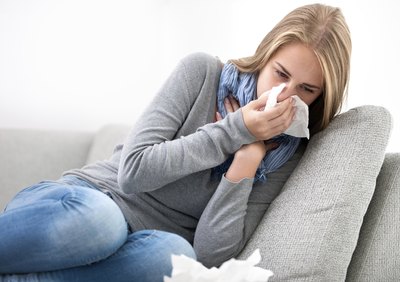 Allergies May Be The Cause
Allergies are the result of an over-reaction by the immune system to certain irritants. Irritants can cause reactions in people who are sensitive to such things as pet dander, pollen, dust mites and some foods. Coughing, sneezing and a runny nose are the body's reaction as it attempts to clear the allergen. In some instances, the discomfort of allergies are so severe that a doctor needs to be consulted, and a skin test may be required to determine the specific cause. Allergy shots are a long-term solution to a runny nose and cough caused by allergies.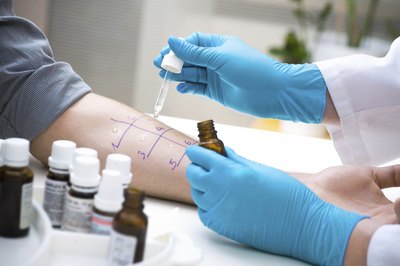 Antihistamines for a Runny Nose
Antihistamines work to reduce the body's reaction to irritants and to block the chemicals that trigger reactions, such as histamine. Antihistamines are available in nasal spray, liquid and pill form. Antihistamines help to dry mucus, and work well in reducing runny nose and sneezing due to colds or allergies.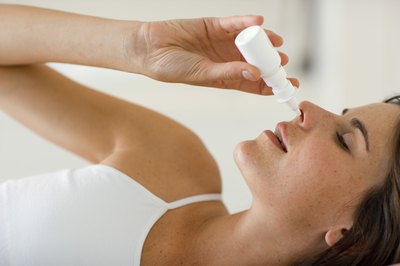 Treating the Cough
A productive cough releases mucus from the lungs and should be encouraged. When mucus accumulates in the lungs it can lead to pneumonia. The best treatment for a productive cough is an expectorant. Expectorants act to release mucus or phlegm from the respiratory tract. Cough and cold preparations that have the letters "EX" on the label generally indicate that an expectorant. A doctor should be consulted for any cough that persists for more than two weeks and is accompanied by yellow or green mucus.
Nonproductive coughs do not produce phlegm and can cause throat irritation and hoarseness. An antitussive is used to suppress the body's urge to cough. Cough suppressants containing dextromethorphan are available in over-the-counter antitussive cough syrups and usually carry the initials "DM" on the label. Cough drops and hard candies can also provide some relief from dry coughs.