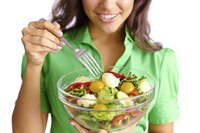 The CRON diet was originally created as a plan to extend longevity by restricting caloric intake. CRON, which stands for calorie restriction with optimum nutrition, has extended the lives of laboratory animals, but research has not yet proven its ability to slow down aging in people. Whether it lengthens your life or not, the CRON plan can help you lose weight. Just be aware that severe calorie restriction is not healthy for everyone, so talk to your health care provider before starting the diet, especially if you are over 60.
CRON Diet Basics
The concept behind the CRON diet was described in Brian M. Delaney and Lisa Walford's book "The Longevity Diet," which is why the two names are used interchangeably. Even though the primary goal is calorie restriction to promote longevity, it's also a weight-loss plan. The book states that you should plan to lose 10 percent to 25 percent of your weight over several months, according to a review by the Academy of Nutrition and Dietetics.
Calorie Restriction for Longevity
Calorie restriction to boost longevity is defined as reducing your normal caloric intake by 10 percent to 40 percent while getting adequate nutrition, reports the scientific journal "Nature." In laboratory studies, calorie restriction lengthened the life span of flies, yeast and rodents by as much as 40 percent, according to the University of Wisconsin-Madison. Studies using monkeys have produced mixed results. One study conducted by scientists at the National Institute on Aging found that restricting calories did not lengthen life span. On the other hand, in April 2014, researchers at the University of Wisconsin-Madison reported the results of their study in which monkeys on a calorie-restricted diet lived longer than monkeys fed a normal diet.
Optimize Nutrients
The CRON diet calls for eating seven to nine servings daily of fruits and vegetables and rounding out the menu with whole grains, lean protein and healthy fats such as olive and canola oils. The diet's creators offer an example of a daily menu, which provides 1,524 calories, 82 grams of protein, 37 grams of fat, 239 grams of carbohydrates and 33 grams of fiber. These values represent more than 100 percent of the recommended intake for protein and fiber, but significantly less of fat and carbs. However, this is just one guideline showing the proportion of nutrients, not a menu intended for everyone to follow.
Guidelines to Follow
The Calorie Restriction Society International, or CR Society, was founded by the original creators of the CRON diet. The group emphasizes this point: Be sure your diet consists of nutrient-dense foods that provide the daily requirements for vitamins and minerals before you begin reducing calories. Once you start to restrict calories, cut down gradually and monitor calorie intake to ensure you don't lose more than 1 to 2 pounds each week.
Caveats
As you lose weight from calorie restriction, you may also lose bone mass, so the CR Society International recommends working with a physician to monitor bone health. Other risks associated with calorie restriction include sensitivity to cold, food cravings, menstrual irregularity and decreased testosterone production. The CRON diet is not recommended for pregnant women, people with an eating disorder or anyone who is not fully grown. It's important to distinguish between CRON and anorexia. Where CRON is an open lifestyle focused on getting sufficient nutrients, staying healthy and watching calories regardless of weight loss, anorexia is a hidden behavior focused on losing weight, which results in malnutrition and health problems.