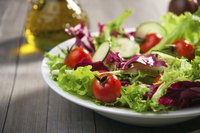 If you're like most Americans, you're probably not getting enough fiber in your diet: Most Americans only get 15 grams a day, says the Academy of Nutrition and Dietetics. You need 14 grams of fiber for every 1,000 calories you eat, which translates into about 38 grams for men and 25 grams for women. Adding more fiber to your diet can help improve bowel function, lower your risk of chronic diseases and help you better manage your weight. Fiber can interfere with some medications, decreasing their absorption and effectiveness, so talk to your doctor about your daily fiber needs if you are on medication.
Better Digestion
In plant foods such as fruits, vegetables and whole grains, fiber provides structure. Your body is unable to digest this part of the plant, which may offer benefits to your digestive system. There are two types of fiber, soluble and insoluble.
Soluble fiber helps improve digestion by slowing the passage of food from your stomach to your small intestines. Good sources of soluble fiber include oats, beans and bananas.
Insoluble fiber, also referred to as roughage, helps improve bowel regularity by holding onto water, which softens and adds bulk to your stool making it easier to pass. If you're having issues with constipation, you want to eat foods high in insoluble fiber such as whole grains, berries and carrots.
Disease Prevention and Management
Getting more fiber does a lot to improve health as well. People who eat more fiber are at a decreased risk of developing heart disease, diabetes, high blood pressure and certain gastrointestinal diseases, according to a 2009 article published in Nutrition Reviews. Eating more fiber, specifically insoluble fiber, may help reduce your risk of intestinal cancer because it helps remove toxic substances in your gastrointestinal tract.
If you have high cholesterol, eating foods rich in soluble fiber may help lower your numbers. And by slowing digestion, soluble fiber may also help people with diabetes gain better control over their blood sugar.
Weight Management
Whether you're trying to lose weight or maintain your weight loss, eating more fiber may help. Fiber in food helps you feel full longer, which may help you eat less. A 2001 article in Nutrition Reviews says that eating an additional 14 grams of fiber or more a day may help you eat 10 percent fewer calories when following your usual diet. Additionally, some high-fiber foods such as fruits and vegetables are also low in calories.
Tips for Getting More Fiber
The Cleveland Clinic says if you follow a 2,000-calorie diet you can meet your daily fiber needs by making sure you get 3 ounces of whole grains, 2 1/2 cups of vegetables and 2 cups of fruit each day.
When trying to get more fiber in your diet, go slow to prevent gas, bloating or constipation. Making one change at a time, such as switching your white bread to whole-wheat bread, and waiting a few days to a week before your next change, such as eating fruit for dessert instead of ice cream, may help.
You also want to make sure you get more water too, at least 64 ounces a days, recommends the Cleveland Clinic.