A cat who has a broken leg must be taken to a veterinarian. Only a vet can set a broken leg correctly. A vet also will ensure that the cat does not have an infection in the broken leg that could lead to sickness or death. Home remedies for a cat with a broken leg are for use during the time between the cat breaking the leg and you taking the cat to the vet. This period of time should never be more than a few hours.
Comfortable
Make the cat comfortable while you wait to go to the vet. This is important because it is something only the cat's owner can do, and it helps to ensure that the cat is able to recover. Put the cat on a soft blanket or towel that you have folded several times to create a soft pad. Do not attempt to move the broken leg other than to place it on the towel or blanket. Sit at your cat's head, pet her and speak softly to her. Offer her food and water. If she does not eat or drink, dip the corner of a towel in lukewarm water and wet her lips with it.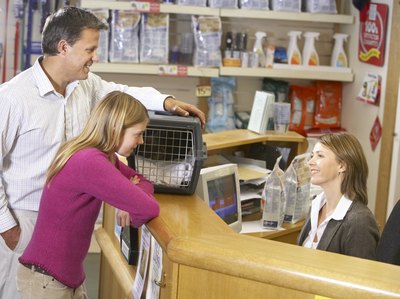 Straighten
Straighten the broken leg and affix it to a flat board only if you know you will not be able to get to the vet in fewer than three hours. Gently move the broken leg into a straight position and set it on top of a flat board. Use fabric strips to secure the broken leg loosely to the board. Keep the cat quiet and in one position. Monitor him and provide him with food and water until you can get to the vet.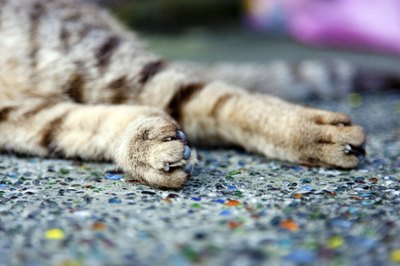 Considerations
Take a cat or other animal with a broken leg to a veterinarian. Although keeping her still and straightening the broken leg with a board are two home remedies, they will not fix the cat's broken leg. Making a cast on your own, letting the bone heal with time or ignoring the problem are all very dangerous situations. Even a person who is experienced in making casts should not attempt to take care of a cat's broken leg without the aid of a vet. Only your vet can prevent infections, set the bone correctly and give your cat the best chance for recovery.