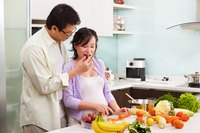 Just because you'll put on pounds during pregnancy doesn't mean you can eat with abandon. Healthy weight gain during pregnancy supports your growing baby, but too much weight can lead to complications. How much you gain depends on your body mass index prior to pregnancy, age, propensity to gain weight and appetite.
Calorie Recommendations
Extra calories aren't needed in your first trimester. In the second and third trimester, a healthy amount of weight gain follows when you increase your calorie intake by about 300 calories per day, notes the American Pregnancy Association. The Academy of Nutrition and Dietetics recommends a bit higher intake: 340 extra calories per day during the second trimester and as much as 450 extra daily calories during the third trimester. This adds up to a total daily target of 2,200 to 2,900 calories per day. Monitor your weight gain, and if the pounds are piling on too quickly, you know you're getting too much.
Weight Gain Targets
Pregnant women who are underweight should gain more weight than overweight and obese women. If your BMI is below 18.5, your doctor will likely recommend you put on between 28 and 40 pounds; a BMI of 18.5 to 24.9 means a 25- to 35-pound gain; a BMI of 25 to 29 warrants a gain of 15 to 25 pounds; and a BMI that indicates obesity, of 30 and above, means you should moderate weight gain to 11 to 20 pounds. Your doctor will help you determine if your weight gain is on track. If she feels you're gaining too quickly or too slowly, she may make individualized calorie recommendations for you.