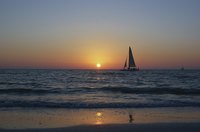 Some may think of Florida beaches as party zones crammed with students on spring break, but the Sunshine State also caters to vacationing families. Whether nestled along the white sand shores of the Gulf or set along the crystal blue waters of the Atlantic, some of Florida's top beaches provide a host of activities for kids.
Southeast Region
CBS Miami dubbed Crandon Park in Key Biscayne, 15 minutes east of Miami, as one of the best beaches for kids in South Florida. The 2-mile beach has a number of stands where you can rent equipment, such as kayaks and kites. Nearby Crandon's Family Amusement Center is home to a carousel, roller rink, playground and "sprayground." Take your kids on a leisurely walk along the nature trails and pause for a treat at one of the nearby concession stands. CBS Miami also named Hollywood Beach, just 30 minutes north of Miami, as a South Florida standout. The city has 7 miles of beaches, including the 2-mile Broadwalk dotted with family-friendly cafes and bike rental stands. From March through October, little animal lovers can watch sea turtles hatch along the beach and listen to educational lectures from naturalists at the Anne Kolb Nature Center.
West Coast
Visit Florida, the state's official tourism and marketing corporation, named Tampa-area Clearwater Beach as one of Florida's most family-friendly beaches. Kids can burn energy on the white sand shores with a beach volleyball game or on one of its many playgrounds. Take a detour to the Clearwater Marine Aquarium, home to Winter, the famed bottlenose dolphin with a prosthetic tail. Little buccaneers can also take an ocean voyage upon Captain Memo's Pirate Cruise, complete with treasure hunts, water gun games and face painting parties. Nestled along the southern tip of Anna Maria Island in the Gulf of Mexico and just 45 minutes south of Tampa, Coquina Beach Park in Bradenton earned high marks as one of Parents magazine's best beaches for families. Kids can spend their days searching for the colorful mini seashells that line the sandy shores. Almost Heaven Kayak Adventures offers guided kayak tours, open to all ages, where you might see such marine life as dolphins, manatees and stingrays.
Panhandle Paradise
Tucked away on Okaloosa Island, a narrow barrier island off the Panhandle's coast, Fort Walton Beach was also hailed by Visit Florida as one of the state's most family-friendly beaches. You'll find a host of rental companies that offer charter parasailing, jet-skiing, windsurfing and pontoon-boating excursions for the whole family along the beach's northern border. On the gulf side of the island is Gulfarium, a marine life theme park with dolphin encounters, penguin preserves and stingray touch tanks. Set 15 minutes inland from the gulf, Edward Ball Wakulla Springs State Park in Wakulla Springs earned top marks from Southern Living as having one of Florida's best beaches. Noted for its kid-friendly setting, the park was praised by the magazine for the 14-foot diving platform that sends children hurling into the spring's fresh waters. In addition to swimming, snorkeling and glass bottom boat tours, the park has a lodge with an old-fashioned soda fountain.
North and Central
Set along Florida's northeastern coasts, the beaches of historic St. Augustine earned rave reviews from Southern Living for its family fun opportunities. Take your kids to Marineland of Florida, where they can work as dolphin trainers for the day, watch stage shows starring marine life and help feed the animals. Children can also explore the region's white sand beaches dotted with volleyball courts, playgrounds and splash grounds or fish from the St. Johns County Pier. Kids can get their surf on in Sebastian, a region noted by Southern Living for its family-friendly and fun-filled beaches. In addition to surfing lessons for those of all skill levels, the 3-mile-long Sebastian Inlet State Recreation Area also offers opportunities for scuba diving, snorkeling and swimming.