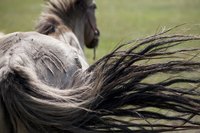 If your horse is rubbing his tail constantly, it's possible he has pinworms. These tiny worms congregate in a horse's rectum. If you look carefully, you might see worms around your horse's anus or in his manure. If your horse is on a regular deworming program, it's unlikely he'll suffer from pinworm infestation. Fortunately, standard dewormers alleviate these parasites.
Deworming for Pinworms
If you deworm your horse with the correct amount of ivermectin for his weight, the pinworms should disappear. A double dose of pyrantel pamoate -- marketed under the brand name Strongid and also available in generic versions -- is as effective as ivermectin. Perhaps the most effective equine pinworm treatment consists of initially deworming the horse with ivermectin, then following up with the double dose of pyrantel pamoate if all of the pinworms aren't killed. You can check for remaining pinworms after deworming by applying clear tape to the area around your horse's rectum. Your vet can then examine the tape for signs of pinworm eggs.