If you have high cholesterol, you have an increased risk of heart disease, which is the leading cause of death in the United States, according to the American Heart Association. One of the most important things you can do to lower your cholesterol is to watch what you eat. Just as there are foods that can make your cholesterol worse, there are some foods, like healthy juices, that can help lower your levels. For best results, choose juices that are fresh, 100 percent juice with no added sugars.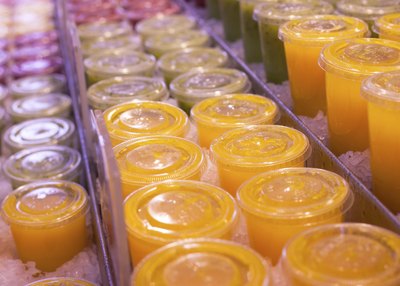 Citrus Juices
Citrus juices such as lemon, orange and grapefruit have cholesterol-lowering properties. Citrus fruits, especially grapefruit, contain a beneficial compound called naringenin, which lowers LDL or bad cholesterol and triglycerides, while raising HDL or good cholesterol, according to a review in a 2015 issue of Current Pharmaceutical Biotechnology.
In a study with lemons, published in a 2008 issue of Journal of Clinical Biochemistry and Nutrition, the compounds naringin and hesperidin were shown to lower cholesterol by preventing its production in the liver. Drinking orange juice over a time not only may decrease your cholesterol levels, but increase your intake of important nutrients such as vitamin C and folate, notes a study in a 2013 issue of Lipids in Health and Disease.
If you are any medication, consult your doctor before drinking grapefruit juice because it may interfere with your medication's ability to work properly and cause unwanted side effects.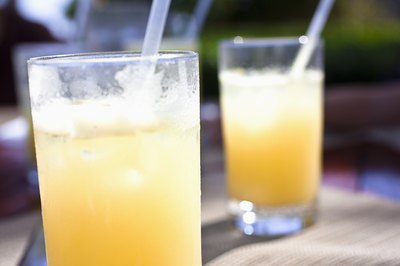 Red Grape Juice
Red grape juice contains numerous natural compounds called polyphenols, which are said to be responsible for its cholesterol-lowering benefits, according to a study in a 2006 issue of The Journal of Nutrition. While one particular compound cannot be singled out as the most beneficial, researchers note that the groups of polyphenols work together to confer cholesterol-lowering and heart-health benefits.
Another study in a 2014 issue of Histology and Histopathology points out that red grape juice is especially helpful if you eat a high-fat diet. When tested on rats fed a high-fat diet, red grape juice lowered LDL cholesterol, raised HDL cholesterol, lowered triglycerides and improved blood sugar levels.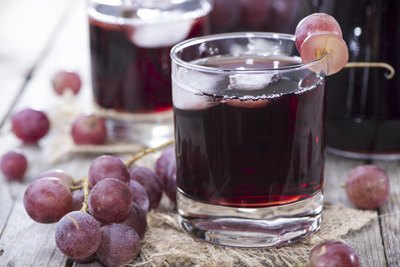 Pomegranate Juice
Like red grapes, pomegranates are rich in polyphenols that may reduce your risk of high blood pressure, diabetes, cancer and inflammation. A report in a 2014 issue of Advanced Biomedical Research states that pomegranate juice lowered LDL cholesterol in mice and also improved atherosclerotic lesions, which are areas in the artery that are becoming hardened. It is also noted that when tested in human participants, drinking pomegranate juice significantly lowered total cholesterol and LDL cholesterol levels, without lowering HDL levels.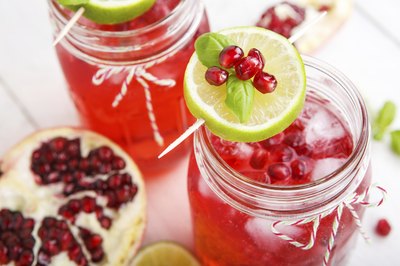 Apple Juice
The apple juice that will help lower your cholesterol is not the crystal clear apple juice sitting on your grocer's shelf. The apple juice that contains cholesterol-lowering properties also contains some apple pomace or fiber, making it cloudy. The pulpy pomace that you see in fresh, unsweetened apple juice is high in soluble dietary fiber, which delivers the cholesterol lowering benefits you are looking for, according to a review in a 2013 issue of Journal of Medicinal Food. Apple fiber may also lower your risk of heart disease, diverticular disease and colon cancer.