Having a broken bone can be very painful and annoying. Not having full mobility or range of motion is frustrating and exasperating. Breaks in the fibula, the outer and thinner of the two leg bones located between the ankle and knee, are common. This bone is part of the weight-bearing and support structure of the foot and lower leg.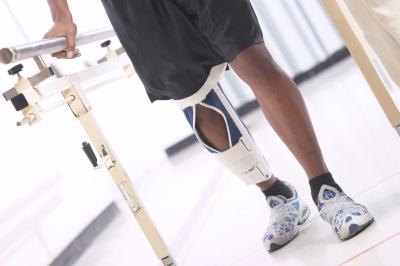 (Hemera Technologies/AbleStock.com/Getty Images)
Breaks in the fibula can be simple hairline stress fractures because of repetitive strain to the bone. These are described as incomplete breaks because the bone, though cracked, is not completely broken through. These fractures are common with individuals who have decreased bone density, flat or high-arched feet, diabetes, or rheumatoid arthritis. In a complete break, the bone is split into two or more parts. The fibula is most commonly broken during ankle injuries.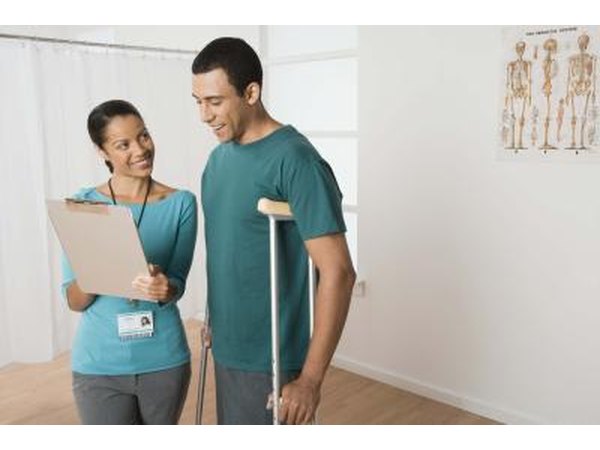 Jupiterimages/Creatas/Getty Images
Fractures of the fibula are not unusual, and the dislocation is rarely severe. These breaks, which may incorporate the fibula, nerves, tendons, ligaments and blood vessels, are very often related to activities such as running, basketball, marching, ballet dancing and contact sports.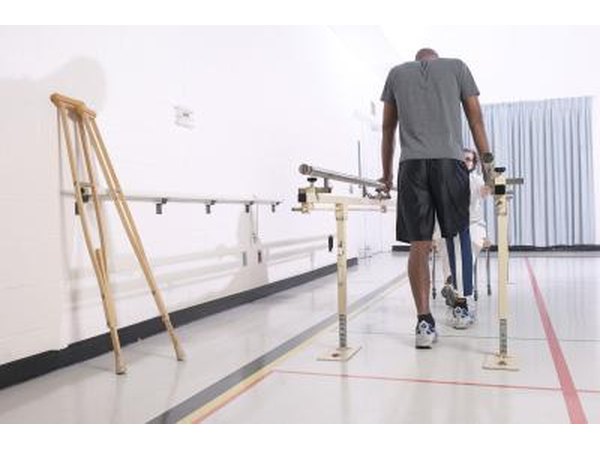 Hemera Technologies/AbleStock.com/Getty Images
Broken fibulas are usually not set because the larger bone next to it, the tibia, provides immobilization. Treatment usually requires a tight-fitting toe-to-knee cotton elastic bandage; however, a cast may be recommended by a medical professional. If the pain is severe and mobility is difficult, a walking cane may be necessary. During the recuperation period, one should eat a variety of nutritious, healthy foods, get plenty of rest and elevate the leg whenever possible to reduce swelling.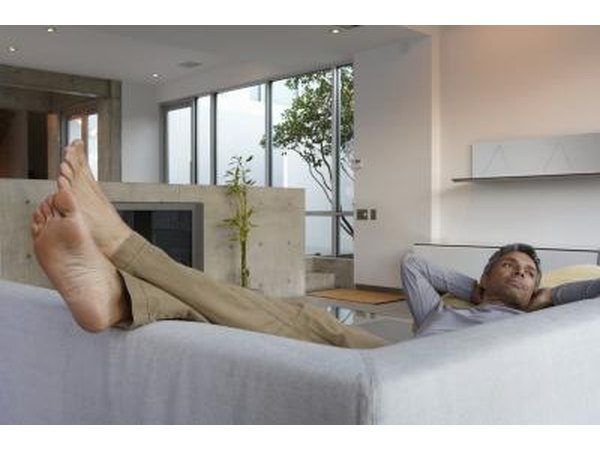 Kraig Scarbinsky/Digital Vision/Getty Images
After a fibula break, rehabilitation with a chartered physiotherapist is necessary to restore range of motion in the ankle and knee and to restore muscle strength and mass lost during the immobilization period.
After the bandage or cast has been removed, frequent ice massage may be recommended for 15 minutes at a time, three or four times a day. However, if heat is more comfortable, it may be applied instead of ice. The therapist may also recommend the use of heat lamps, hot soaks, hot showers, heating pads, whirlpool treatments or heat ointments.
To improve mobility in the ankle and foot areas of your leg, the therapist may recommend balancing exercises to increase the ankle's strength and flexibility. The human foot is designed to move in four directions, up, down, left and right. To help restore the movement in the foot, the therapist may recommend holding the foot in each of the four directions 10 to 15 seconds at a time, repeating the process several times a day. For a better stretch, the mobile foot can also be used to push the disabled foot further.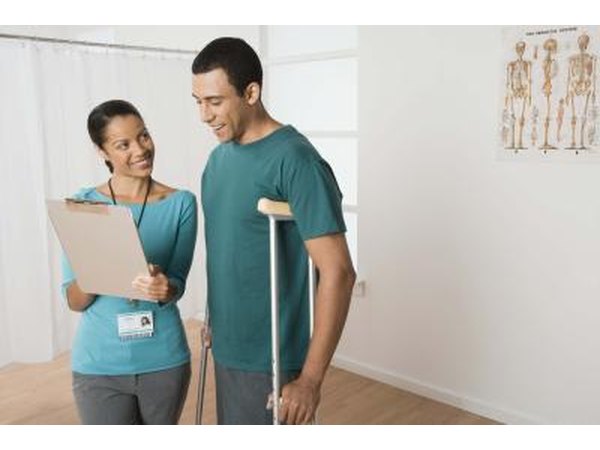 Jupiterimages/Creatas/Getty Images
Nothing can ensure one will never break his or her leg. However, there are preventive measures that may lessen the prospects. Stretch before and after physical activities such as aerobics, running, and contact sports and wear proper athletic shoes. Build bone strength and screen for diseases that may weaken bones, such as osteoporosis.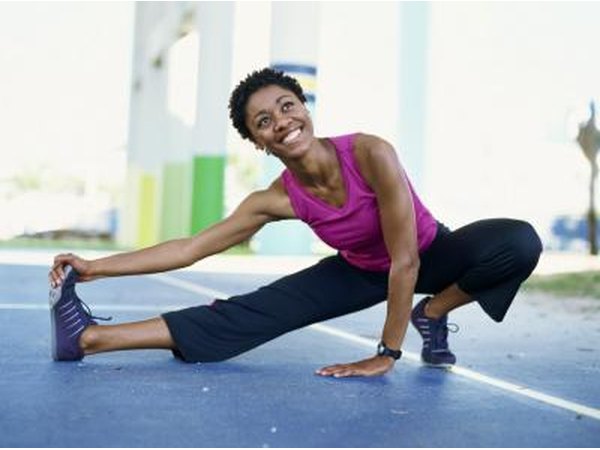 Stockbyte/Stockbyte/Getty Images
Promoted By Zergnet