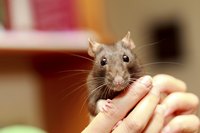 Pet rats live on a variety of foods including a specially formulated pellet chow and small amounts of fresh fruits and vegetables each day. Weight loss in a pet rat is among the first signs of a medical problem. Keeping a weekly weight journal helps your veterinarian to determine the correct dosage of medications needed to treat the underlying causes of weight loss.
Normal Rat Weights
Adult rats vary in weight based on their sex and the breed. On average, adult female rats should weigh between 7.9 and 14 ounces. Adult males weigh in a little heavier, from 8.8 to 19.4 ounces. It is important to weigh a pet rat to determine if she is losing weight. After all, 1 ounce of weight loss can be 1/8 of the total weight of a small female rat. Weighing your rat on a kitchen scale in ounces should be a weekly routine. If you suspect she is losing weight, you may want to weigh her every two to three days and keep a log. If weight loss occurs in two consecutive weighing sessions, she should see a veterinarian.
Diabetes in Rats
Rats can suffer from Type 1 diabetes, just as humans do. Diabetes mellitus is a chronic disorder than results in hyperglycemia, too much glucose in the bloodstream. Symptoms of this disease include weight loss, increase in water intake and urination, high blood sugar and low insulin levels. Diabetes can be diagnosed by your veterinarian and treated with insulin, as with other pets and humans.
Rat Coronavirus
Rat coronavirus is an infectious disease that affects a rat's eyes, mouth and nose. Symptoms include varying degrees of eyes running and swelling, and discharge. Some rats may squint in brighter lights and salivate more than normal. A rat with coronavirus loses weight due to the swelling in her face and mouth, which makes her eat and drink less due to the tenderness.
Anorexic Rats
Rats can lose weight due to anorexia, though it is not usually a crash diet to fit into a swimsuit. Anorexia is the lack of or disinterest in food that causes weight to decrease and often makes a rat lethargic and tired. There are many causes for a rat to be anorexic, including pain, infectious diseases, abdominal organ disorders and ingestion of toxic agents to name a few. If you notice a rat that is not eating as much as normal, she needs a medical diagnosis to treat the underlying cause of anorexia so she can return to her normal diet and activity level. Your veterinarian most likely will do a complete blood count and may run additional tests to provide a diagnosis.