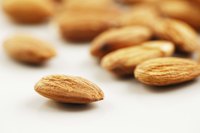 You don't have to give up almonds or other nuts if you're trying to lose weight. In fact, these nuts may even help give your weight-loss efforts a small boost, although research results in this area are still preliminary and conflicting. At the very least, they may make it easier to stick to a low-calorie diet without increasing your risk for weight gain, according to a study published in 2007 in "The Journal of Nutrition."
Weight Loss Potential
A study published in the "International Journal of Obesity" in 2003 found that an almond-enriched diet was more effective for weight loss than one that was enriched with complex carbohydrates, with participants losing 62 percent more weight and 56 percent more body fat. Another study, published in "The American Journal of Clinical Nutrition" in 2012, found that people following a nut-free diet lost slightly more weight at six months but about the same amount of weight by 18 months compared to people eating an almond-enriched diet. However, those who ate nuts decreased their cholesterol levels more than those who didn't.
Almonds as Part of a Weight-Loss Diet
An ounce of dry roasted almonds has about 167 calories and provides just under 15 grams of fat, or 23 percent of the daily value for someone who eats 2,000 calories per day. You'll need to cut calories to lose weight, so eat almonds instead of another less-healthy, higher-calorie food rather than adding them to what you're already eating. Add an ounce of sliced almonds to salads to give them a bit of tasty crunch and heart-healthy fat, or slice an apple and top the slices with a thin smear of almond butter for a quick, filling snack.