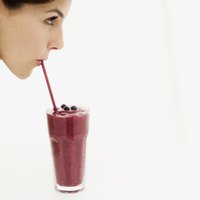 On a liquid diet, you're taking in all, or most, of your calories from liquids. The type of liquid diet you choose depends on the reason for going on the diet. Your doctor might have prescribed a clear or full-liquid diet before or after a medical procedure or for another medical reason. Some people go on a liquid diet in hopes of achieving fast weight loss. Two days without solid foods isn't likely to pose a risk for healthy people, but certain populations should not try this type of diet. Always speak with your doctor before changing your diet.
48-Hour Clear and Full-Liquid Diets
If you're having a medical procedure that requires an empty stomach and intestines, your doctor may put you on a clear or full-liquid diet for 48 hours beforehand. After a surgery, you may need to follow a liquid diet for a couple days while you heal. If you're having trouble swallowing for any reason, your doctor may also put you on a liquid diet until the problem is resolved. You may also need to follow a clear liquid diet for 48 hours if you're ill with symptoms such as vomiting and diarrhea and are having trouble keeping down solid foods.
What You Can Eat
On a clear liquid diet, you can only have clear fluids like broth, fruit juices without pulp, carbonated drinks, gelatin, tea or coffee without dairy, sports drinks, strained vegetable juices, clear fat free chicken broth or bouillon, and ice pops. On a full liquid diet, you can have all the liquids allowed on a clear liquid diet, but you can also have juices with pulp, butter, oil, cream, custard, pudding, plain ice cream, sorbet, frozen yogurt, sugar, honey, syrup and nutritional supplement drinks.
A Sample Meal Plan
Breakfast on a clear liquid diet might include a glass of juice without pulp, a bowl of gelatin and a cup of coffee with sugar but no cream. For a mid-morning snack, have a glass of pulp-free juice and another bowl of gelatin. At lunch, drink a glass of no-pulp fruit juice, a glass of water, and eat a bowl of gelatin and a cup of broth. Mid-afternoon, have an ice pop without pulp, and a cup of coffee or tea without cream. For dinner, have a glass of pulp-free juice or water, a cup of broth, a bowl of gelatin and a cup of coffee or tea with sugar but no dairy.
On a full-liquid diet, you may have a glass of juice, a serving of hot cereal, a glass of eggnog, a glass of whole milk and a cup of tea or coffee with sugar and milk. For lunch and dinner, you might have a cup of strained creamed soup, a glass of juice, a cup of whole milk, a serving of pudding, a serving of ice cream and a cup of hot tea or coffee.
48-Hour Liquid Diets for Weight Loss
Short-term liquid diets or cleanses are often touted for their weight-loss benefits. On these diets, you may only drink water, a meal-replacement shake or fresh juices for the two-day period. The point of these diets is to reduce your calorie intake to encourage fat-burning, but there's a downside to taking in too few calories. When you reduce your calories too much, your metabolism slows down to conserve energy. When you go back to your regular diet, you're likely to gain back any amount of weight you might have lost over those two days. Also, the weight people lose on fasts or juice diets is water weight and protein, because the body tends to get rid of those two substances but hold on to fat, according to the Ask Dr. Sears website.
Safety Concerns
Very low-calorie liquid diets are sometimes prescribed for patients who are obese and face health risks if they do not lose weight quickly. Unless your doctor is supervising your diet, it's not safe to consume less than 800 calories for any extended period of time. The risks of not getting enough calories are nutritional deficiencies, fatigue, constipation, nausea and diarrhea. Women who are pregnant or nursing and people taking insulin to control diabetes should steer clear of liquid diets.