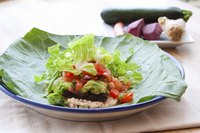 Your body relies on the calories and nutrients from food to power all your activities and support physiological functioning. When you eat a diet low in nutrients, your body doesn't have the material it needs to maintain optimal health. In addition, some unhealthy foods can actually impair healthy functioning. When you eat a healthy diet, your body reaps the rewards in the form of lower body weight, reduced disease risk and improved physical performance.
What Is a Healthy Diet?
Current government guidelines on healthy eating describe a diet that includes all the foods groups -- fruits, vegetables, grains, dairy and protein; is calorie-controlled to maintain healthy body weight; is low in saturated and trans fats, cholesterol, sugar and sodium; and provides all the recommended daily intake for essential vitamins, minerals and fiber. Dietary Guidelines for Americans, 2010 encourages emphasizing whole grains over refined grains, choosing low-fat or nonfat dairy and lean sources of protein, such as chicken, fish and beans. A healthy diet includes healthy fats from fish, nuts, avocados and olive and canola oils.
Easier Weight Management
Unhealthy foods such as sweets and fried foods are often high in calories and low in nutrients. Healthy foods tend to be lower in calories and higher in nutrients, which means you get more nutrition bang for your calorie buck.
For example, a toaster strudel pastry weighing about 2 ounces provides 215 calories, less than a gram of fiber, 40 milligrams of calcium, 66 milligrams of potassium and 49 micrograms of folate. It also provides 10 grams of sugar, 3 grams of saturated fat and 219 milligrams of sodium.
A 2-ounce portion of raw kale has no saturated fat, no sugar, 20 milligrams of sodium, 26 calories, 2 grams of fiber, 80 milligrams of calcium, 260 milligrams of potassium and 75 micrograms of folate.
Lower Disease Risk
Eating a healthy diet helps you avoid obesity-related disease such as type-2 diabetes and heart disease. Reducing your saturated, trans fat and cholesterol intake further lowers your risk of heart disease because it helps you control your "bad" cholesterol -- the unhealthy low-density lipoprotein. Too much LDL cholesterol builds up on artery walls and leads to heart attack and stroke.
Reducing your sodium intake lowers your risk of high blood pressure, which can do damage to your heart, blood vessels, kidneys and other areas of your body.
Cutting out added sugars lowers your risk of obesity, heart disease, type-2 diabetes and even cancer. Furthermore, eating a diet rich in fruits and vegetables increases your intake of antioxidants, plant compounds that destroy disease-causing free radicals. A high fruit and vegetable intake is associated with a lower risk of dying from cancers and all other causes.
Improved Physical Performance
When you're at a healthy weight, there's less pressure on your joints, lungs, kidneys, heart and other organs. You can move and breathe more easily and without pain. When you're getting enough fiber from fruits, vegetables and whole grains, your digestion is more regular. Complex carbohydrates from those same foods help maintain steady blood sugar levels, which provides more consistent energy. All of these benefits of a healthy diet help you perform at your best every day.